It's what's on the inside that counts – Check out today's blog on Amazing Naked Cakes For Your Special Day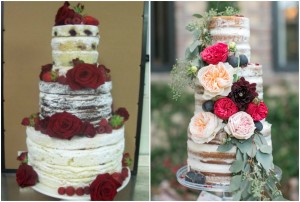 Naked Cakes With Ganache
Chocolate, caramel or fruity drips are creating a contrasting look to the horizontal lines of cake layers and frosting. Not just is this looking really gorgeous, but the ganache will also add more flavour to your wedding cake.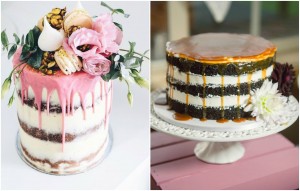 Naked Cakes With Sharp Contrasts
The contrast between white icing and a dark chocolate cake will stun your wedding guests. Compliment the look by adding some outstandingly colourful blossoms and a simple base for an elegant and romantic look.
Naked Cakes With Short Stacks
This style of cake proves that you don't need many tall tiers to make an impact. Decked out with different fresh fruits, flowers and a cake topper, the short stack naked cakes will amaze your guests just as much.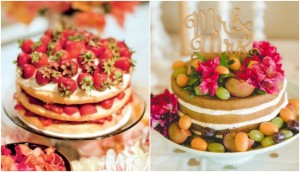 Fruity Naked Cakes
Ensuring your guests get their daily fruit intake, these cakes are decked with fruits or have a fruity-flavoured filling in between the cake layers. Seasonal berries like strawberries or blueberries will boost the natural-looking appearance.
Squared Naked Cakes
This design is definitely the most modern one. With different coordinated colours and clean-cut, smooth edges, berries or blooms are not necessary to compliment these cakes.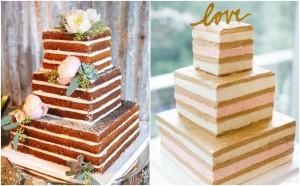 Mini Naked Cakes
If you prefer mini cakes to a big wedding cake or would even like to use them as favours for your guests, the naked cake is very suitable. There are lots of options to choose from in terms of the looks, decor and sizes of the cakes. Add some flowers or an ombré effect to compliment the already gorgeous naked cakes.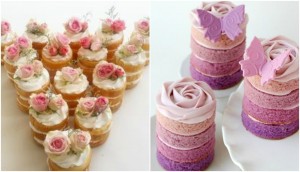 Contact one of our favourite wedding cake suppliers MM Cookies to get the planning of your wedding cake started!
For more inspiration on food for your special day, check out our Pinterest board 'Foodie Wedding'