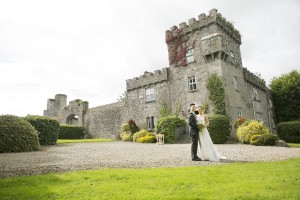 On a beautiful August day, Natalia and Alexander had their dream castle wedding in Fanningstown Castle, just a stone's throw away from Ireland's prettiest village of Adare, County Limerick. The couple decided on an intimate wedding, with their closest friends and family members joining them from the USA.
The bride wore a stunning strapless gown in ivory with pink undertones, while her Maid of Honour wore a light dress in blush pink. The groom and his brother wore deep red ties, all complimenting the day's colour palette of ivory, pink and dark reds.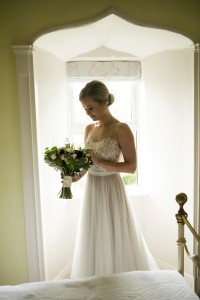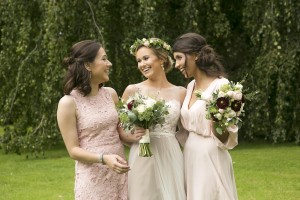 Natalia complimented her bridal gown with a flower crown, as well as a beautiful classic bouquet of ivory roses and deep red dahlia.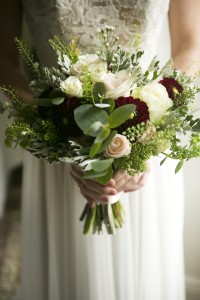 During their gorgeous outdoor marriage on the castle's grounds, many personal elements were added by the couple, including the traditional Irish handfasting with their own dark red ribbon. The special moment was underlined by the peaceful music of a harp.
After the ceremony, the couple and their guests enjoyed wonderful Canapes on the lawn, before having dinner in the castle's dining room. For dessert, the couple served their Royal Chocolate Biscuit cake with ivory fondant and metallic gold colour finish.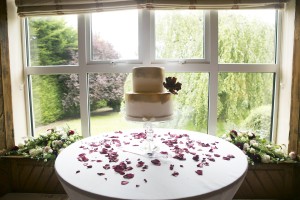 The group adjourned to a quaint Irish pub in Adare village after dinner, enjoying traditional Irish music, song and dance into the early hours.
The couple enjoyed a brief mini honeymoon with their guests before returning to the USA and promises to return to Ireland for lots of anniversaries.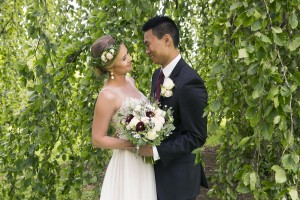 May happiness find you in every corner of the globe!
Contact us today, to start planning your dream destination wedding in Ireland
Email: info@dreamirishwedding.com
Phone: +353 (0) 61 633 636
Wedding Planner: Michelle Mc Dermott, Dream Irish Wedding
Venue: Fanningstown Castle, Adare, Co. Limerick
Flowers: Lawless Flowers
Hair: Nuala Hanley
Makeup: Rachelle Guiry
Interfaith Minister: Geraldine Bowen
Cake: MM Cookies
Photographer: Yvonne Vaughan
Harpist: Madeleine Meehan
Post dinner: Pat Collins Pub, Adare