A beautiful union was celebrated at Sword Castle in Dublin. Meet the couple who travelled all the way from America for their Dream Irish Wedding! Brittany and Kyle promised each other forever in an intimate destination wedding. Whether it's a grand celebration or an intimate affair, we aim to make your special day magical! Keep reading for a glimpse into their intimate destination wedding at Sword Castle!
The Stunning Couple
Brittany and Kyle, our lovely couple from America, met through work and instantly felt a connection. Originally from Washington, USA, they travelled all the way to Ireland for their dream Irish wedding! They had their hearts set on Ireland and had no problem with covering the long distance. Brittany and Kyle were the definition of a perfect couple to plan a destination wedding with. We sincerely enjoyed being part of their journey down the aisle and planning their special day together!
Intimate Destination Wedding
Brittany and Kyle always loved the Irish culture and heritage but had yet to visit the country. Therefore, the decision to have a destination wedding in Ireland was made without a second thought. When they chose the location, they wanted to ensure it was an intimate castle near Dublin. They opted to have an intimate destination wedding at one of Ireland's stunning heritage sites, Sword Castle.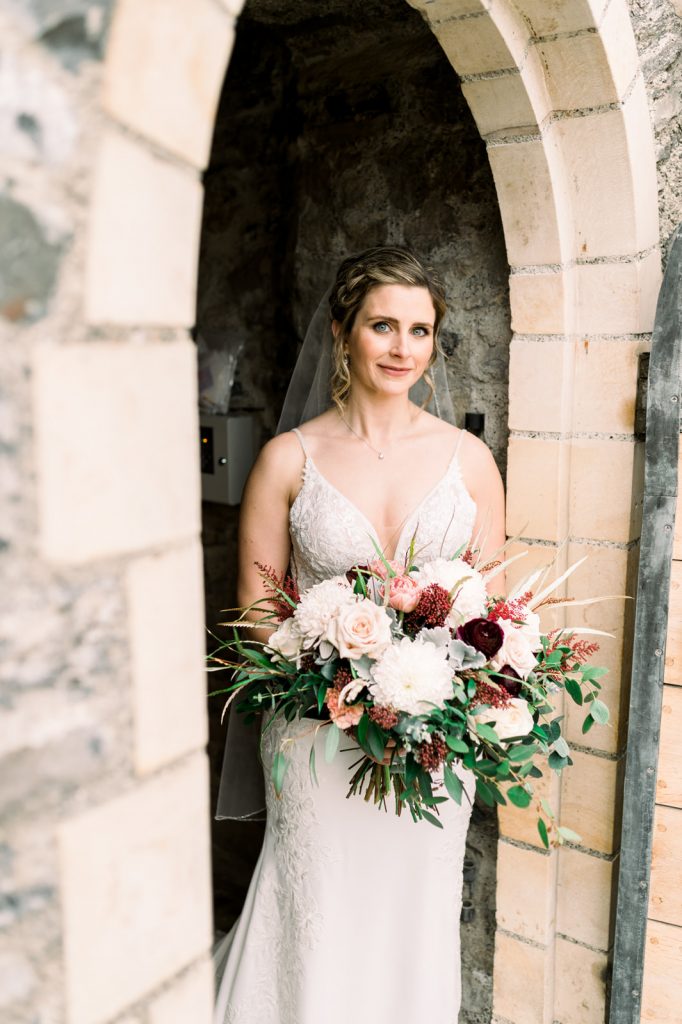 Bound in a Union of Love and Trust
For their ceremony they performed a tradition Irish handfasting ritual. This tradition dates back to Celtic times and is still a popular for Irish weddings. Using a ribbon, you bind the hands together to symbolise the union of love and trust in a marriage. The handfasting ceremony was performed by the Maid of Honour and the Best man which made it even more memorable! We just loved this personal touch as it created unique memories for the couple to look back on.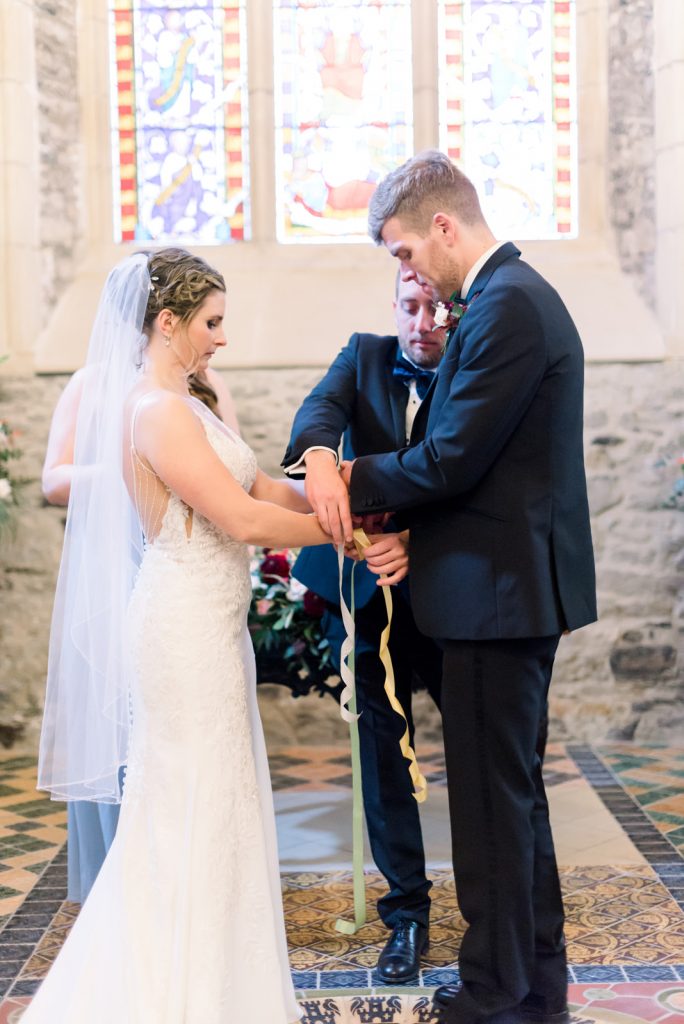 Wedding Theme & Colour Palette
The dress code they decided on, cocktail, worked perfectly with the fabulous and unique setting. For their wedding theme, Brittany and Kyle wanted to create a timeless affair through their wedding florals and setting of a Heritage Castle. In combination with the theme they chose for jewel tones such as burgundy, blush, green and dusty blue. When you look at the wedding party you can see the dusty blue complementing the burgundy florals beautifully.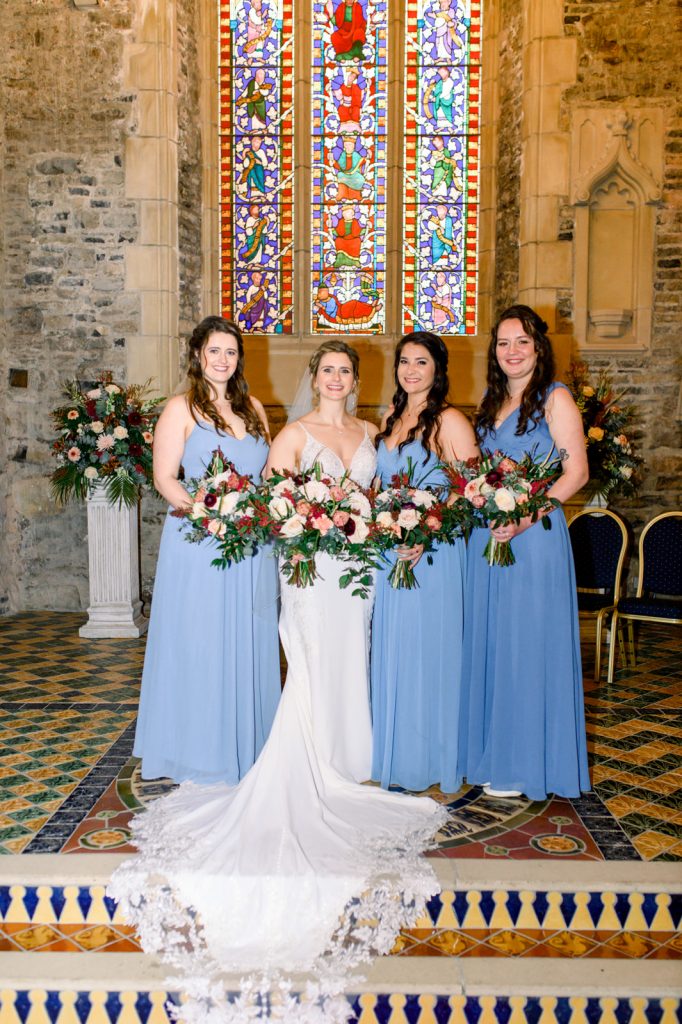 Colourful Florals!
Picking the right flowers was very important to Brittany and Kyle. The florist did a marvellous job guiding them in making their vison a reality. The wedding florals had to represent a timeless affair to match their intimate wedding setting. The stunning coral red flowers in the bouquet symbolized the deep feelings between husband and wife. The flower and colour variation made the bouquet stand out against Brittany's beautiful dress and the splendid Castle Chapel setting!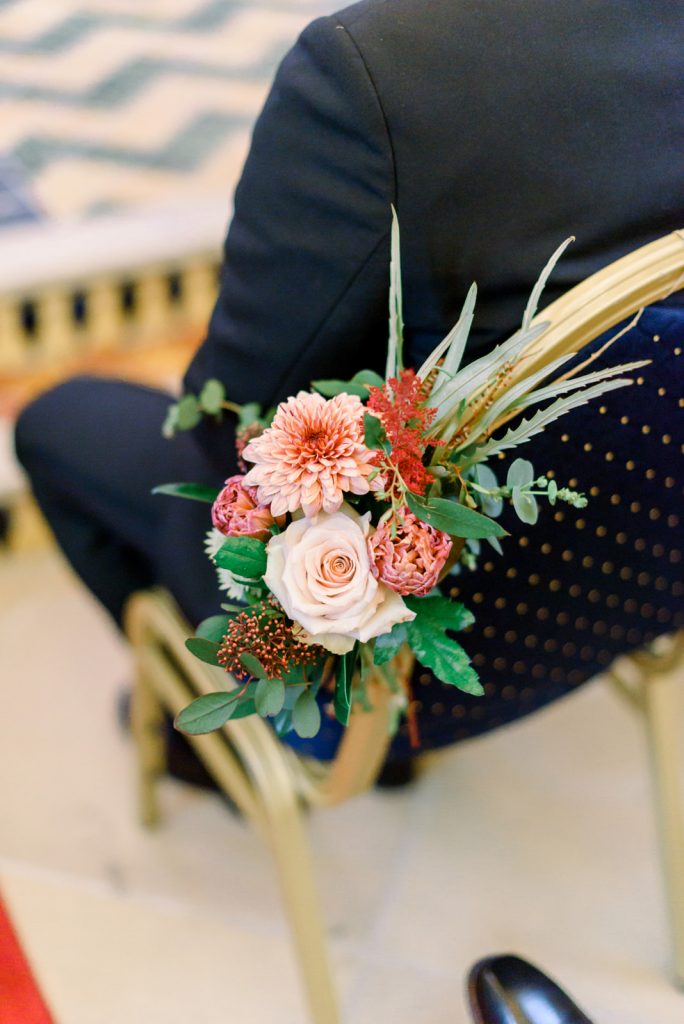 Sweetheart Table
Did you know that a sweetheart table is the perfect choice for an intimate wedding?! Instead of the traditional top table, Brittany and Kyle chose a sweetheart table for more intimacy. Having the sweetheart table allowed them to enjoy their special day and first meal together as newlyweds. Even though they were seated separately, the couple was still close and felt part of their wedding guests.
Planning the Wedding
Planning their intimate destination wedding was such a delightful experience. Brittany and Kyle were very involved during the planning process, especially the blushing bride herself! Together with Michelle, our fabulous wedding planner, they created the wedding of their dreams. Staying true to their American roots, they wanted to feed each other cake after cutting it. Keeping it small, they opted for a one tier cake which was perfect for this lovely tradition.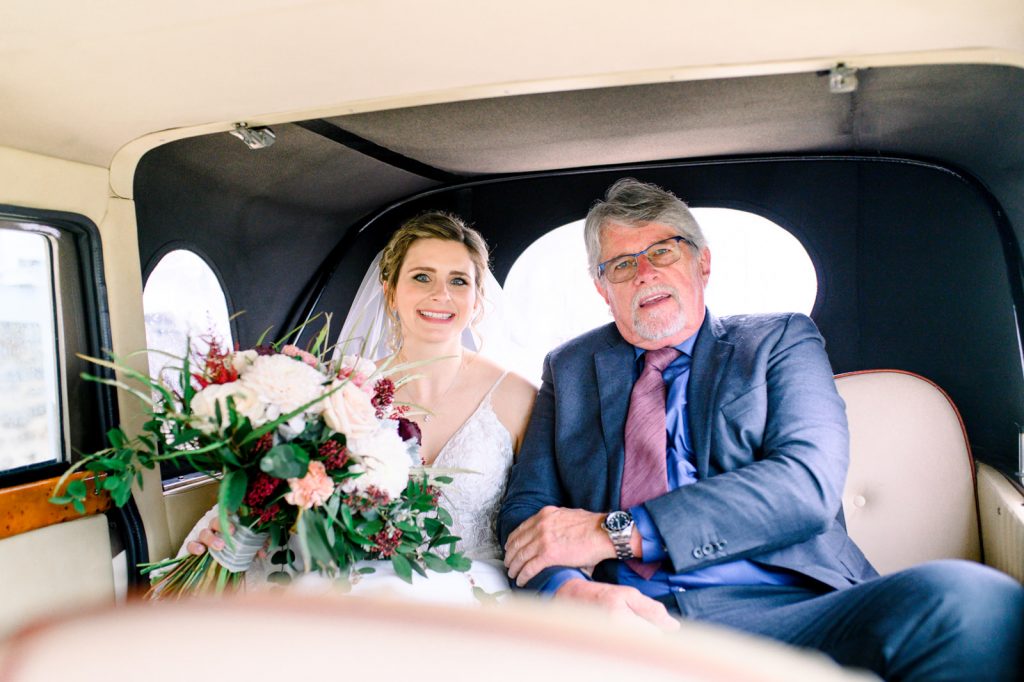 Honeymoon
Brittany and Kyle did not follow many wedding traditions and this unique honeymoon proves it. For their honeymoon the newlyweds decided to go and explore Ireland further with most of their guests! We think this was such a genuine and special way to share your marital bliss with your loved ones. Brittany and Kyle we wish you all the happiness in the world, filled with adventures and trips to Ireland!
Dear Brittany and Kyle, it was absolutely delightful to plan your dream Irish wedding. Thank you for allowing us to be a part of your special day! – xx
This incredible team of vendors made Brittany and Kyle's Dream Irish Wedding a reality!
Planner: Dream Irish Wedding
Venues: Sword Castle
Photographer: Niall Scully Photography
Hair: Lorraine Browne Hair
Make-up: Lisa Smyth
Florist: Arbour Blooms Weddings
Music: Bag Piper Sean
Officiant: Humanist Pat Clarke
Do you want a Dream Destination Wedding in Ireland?
Contact us and together we will make that dream a reality!