Ireland overflows with beautiful and stunning places to discover. Even though the Emerald Isle is best known for its castles, it has much more to offer than what you think! From coastal venues to heritage sites to open green spaces, there are lots of options for Elopement in Ireland.
---
But first, what does it mean 'To Elope'?
When you hear the word 'Elopement, I imagine the first thing that comes to mind is a couple running away to Vegas to be married by Elvis in a white chapel. But we are here today to show you how wonderful Ireland is for an elopement. Even though it might have been true in the past that elopements were synonym with last-minute, secret weddings, it is not the case anymore! Elopements are now intentionally small and intimate weddings that allow the day to be really about the couple and their relationship. And it doesn't have to be just the two of you. Some couples choose to invite a few guests from their family and close friends.
---
Who can Elope?
Everyone can elope! As long as you and your significant other agree on who to tell and who to invite, go ahead! Some celebrities have eloped and had a small intimate wedding on their own!
They include Jack Black and childhood friend, Tanya Haden, who eloped just a year after they started dating. They had a beautiful and intimate wedding ceremony in Big Sur, California.
While singer Kelly Clarkson and her husband Brandon Blackstock had a small farm wedding in Tennessee. Kelly Clarkson tweeted that they were eloping for only one reason: they both wanted an intimate ceremony.
And the elopement of actress Isla Fisher and actor Sacha Baron Cohen took place in Paris. The couple held a traditional Jewish wedding ceremony, to which they invited only six guests.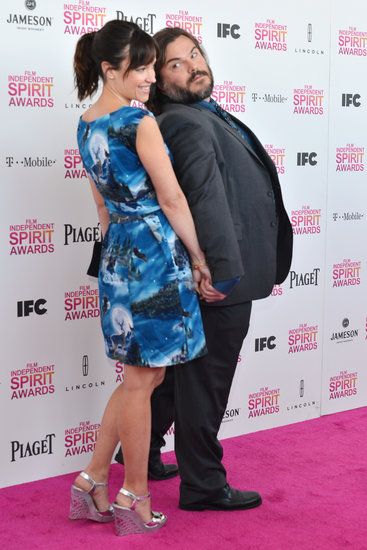 ---
Where to Elope in Ireland
1) Cliffs
As Ireland is an island, we have plenty of cliffs for you to elope to. Having the ocean or the sea as a background for your wedding is something wonderful and somewhat magical. One of the most famous cliffs in Ireland are the Cliffs of Moher, along the Wild Atlantic Way that follows the west coast of the country.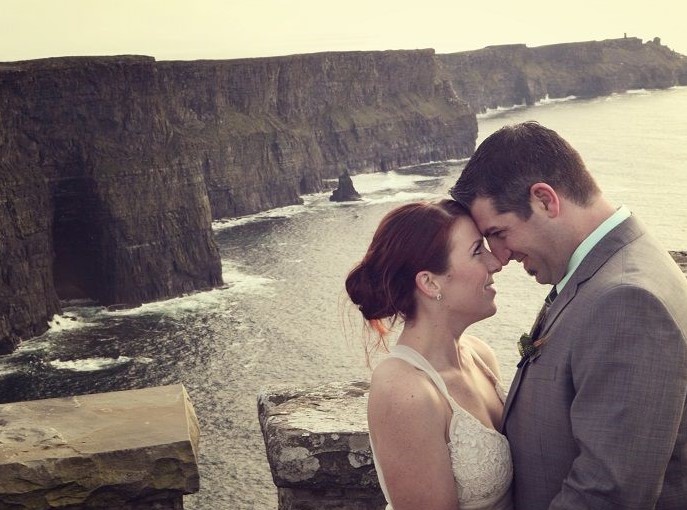 2) Castles
While some Irish castles are large and more suitable for traditional wedding ceremonies and receptions, others are ideal for smaller intimate elopement weddings. And let's be honest, who doesn't want to get married in an Irish castle? We are affiliated to fairytale elopement castles all over the country.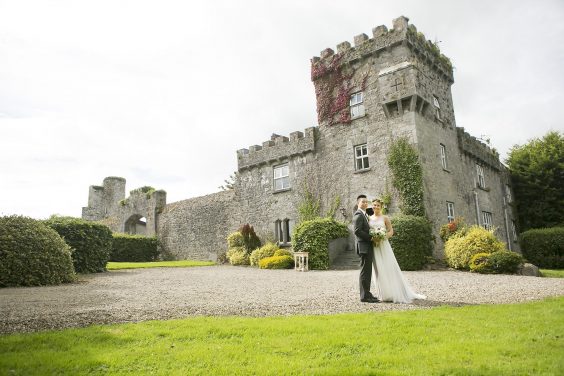 3) Ruins
With all of Ireland's great history comes a lot of historic ruins including castles, towers, and abbeys. Although getting married in ruins may not appeal to everyone, we can assure you that they make for a fantastic timeless setting and will almost make you and your guests feel like time has stood still. Remember when having a ceremony at a ruin, you do need to have an indoor backup option encase of rain.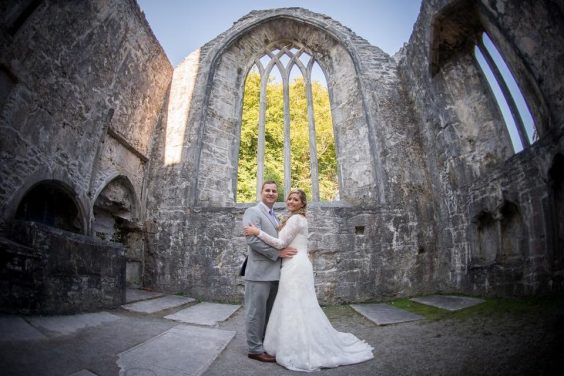 4) Heritage Sites
Ireland is full of heritage sites scattered all over the country. There are gardens, parks, castles, abbeys, cathedrals, and more. The Blasket Island Heritage Centre is a beautiful venue, in addition to being the perfect indoor backup if you are having an outdoor elopement wedding on Slea Head, as it is only 10 minutes away. Slea Head is Ireland's most south-westerly point and the closest you can get to America from the mainland.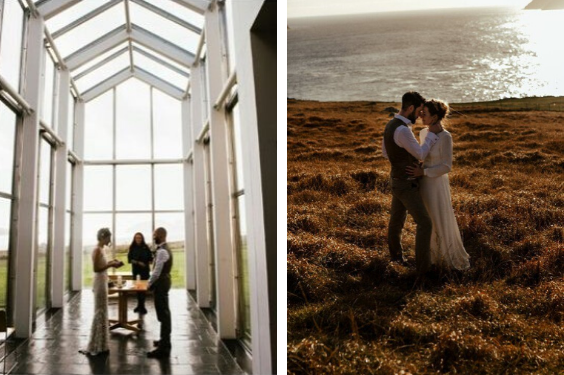 5) Lodges
If you would like an intimate Irish wedding in a reserve & lodge setting, there are of course many options. Locations such as the Reserve located in beautiful West Cork offers a 50-acre nature reserve with a cute & cosy lodge.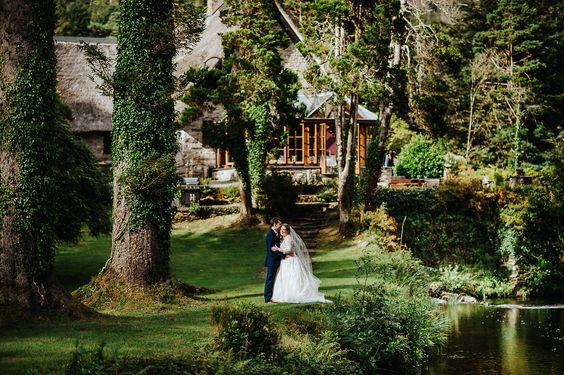 6) Forests
As you know, Ireland has a lot of forests. And there are a lot of myths and legends surrounding them. You could take your guests on a whimsical guided tour of an Irish forest, leading to your wedding location. Some perfect locations have an indoor backup near it just in case.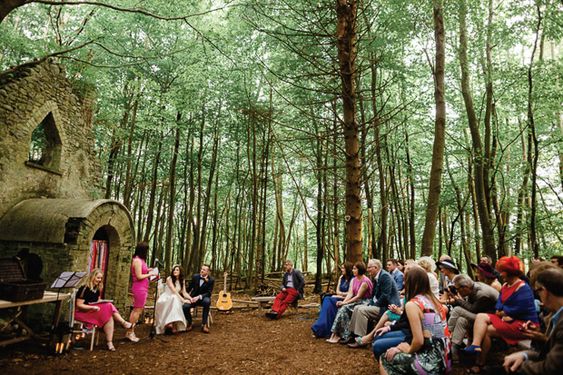 7) Gardens & Parks
Ireland is known to be a very green country, thus having lots of parks and gardens to have your elopement in. While there are gorgeous botanical gardens and verdant parks, we love the stunning garden at a manor house where you can get married under the Weeping Beech Tree. Bonus points: it has an indoor backup option.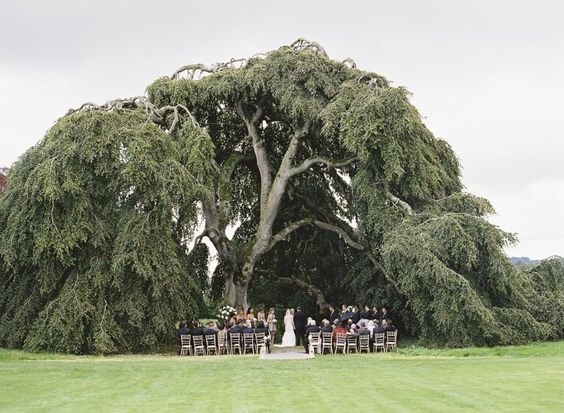 8) Churches & Chapels
If you want to have a small intimate religious wedding ceremony, we recommend that you look for a small church or chapel. The Emerald Isle has lots of them and they often come with a stunning background in the countryside. One perfect little chapel for a religious elopement is St Finbarr's Oratory. It is enclosed by hills, woodlands and a lake, making it an intimate location.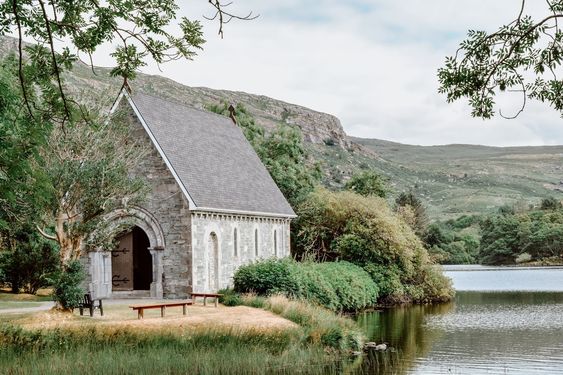 ---
#JustEngaged! We hope that you found today's BLOG enjoyable and very informative!! Contact Us now to make your Dream of an elopement in Ireland a reality.
Leave us a comment telling us which venue you liked the most and why. You can also tell us all about your elopement experience with the #DIWElopementWedding and don't forget to tag us on Twitter (@DreamIrishWedd), Facebook (@DreamIrishWeddings) and Instagram (@DreamIrishWedd).
---
As Wedding Planners, we can help you plan your elopement in Ireland too. We will take care of everything from the venue to the vendor to the accommodations and more. Don't hesitate to click here to contact us.
---
We want to acknowledge all the wonderful photographers we work with whose images we have included in this blog, along with images from Pinterest.
---