Meet Natalie & Brandon, an inspiring couple from Texas who got swooned by the magical scenery of Ireland and the warm heart of the people living here. We asked the bride about the best day in her life and here is what she had to tell us about 'Texan Love for Life Meets Irish Charm – A Phenomenal Wedding At Adare':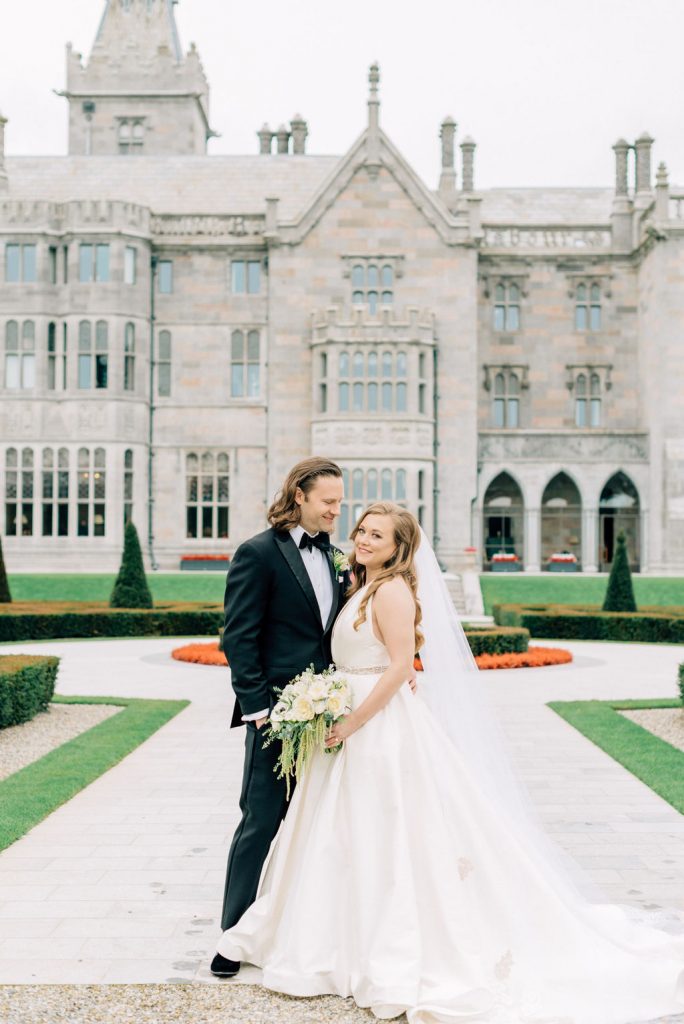 How and when did you meet? Tell us about your first date too!
We met through mutual friends, at their lake house for a weekend getaway and instantly hit it off. We had a great weekend all hanging out together, then when we left Brandon ran out to the car to get my number before I left. We lived in different cities, so we stayed in touch and a few weekends later we met up for a double date.
Tell us about your proposal! When, where, how?
It was a total surprise to me! Brandon had one of my close girlfriends, who is a photographer, tell me she needs me and our dog Mimi to be models for a project she was working on. We went out to the walking trail that is on a lake running through Austin, and while I thought we were taking photos, Brandon walked up and proposed! Mimi actually saw him first and we have the cutest picture of her looking at him! Then our parents came walking up and we had a champagne toast.
Brandon and I then went to dinner at one of our favourite local restaurants, and sat at the same table where he told me he loved me for the first time. It sounds weird but I'm a total foodie, so food is my love language hah! Then we went back home but I really wanted to go meet up with friends. When we walked in the door all our friends were there and it was a huge surprise party! I had no idea! You can see the funny video here. The video was so funny that it actually wound up being aired by a national television program!
Why Ireland?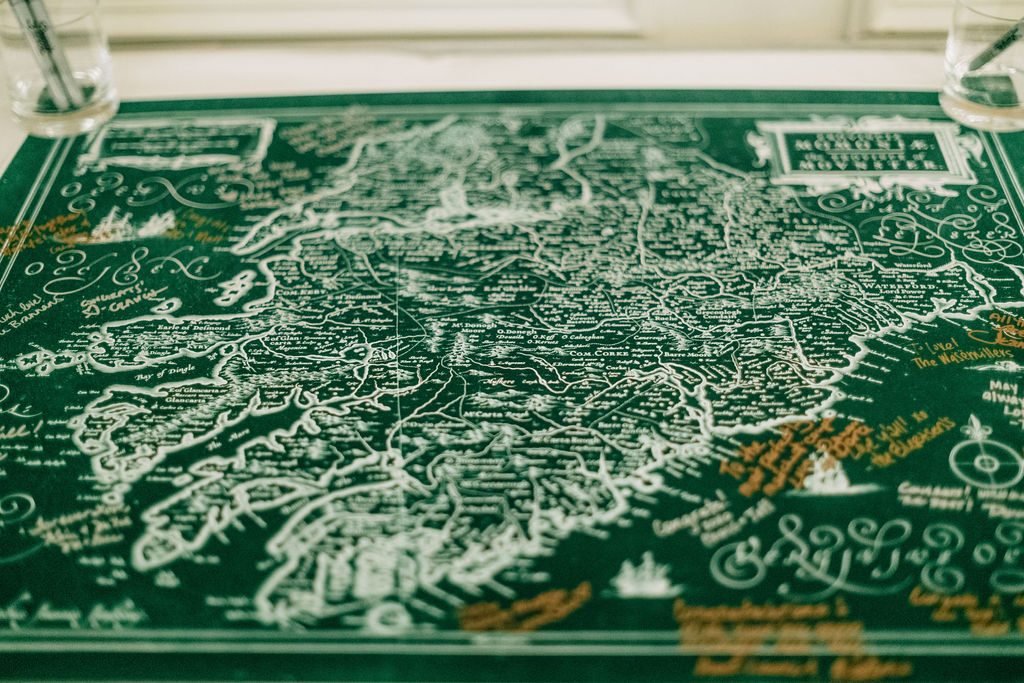 Why not!? Brandon and I are big travellers and we knew we wanted a destination wedding. We didn't want to do a beach, so we started looking at other options. I saw a few photos of the rolling, green Irish hills and thought they were so beautiful and romantic. Brandon liked the whiskey and the golf. We booked a flight two weeks later to tour venues. We were so charmed by the Irish countryside but especially by the Irish people. They were simply put the nicest people we had ever met.
Why did you pick Adare Manor?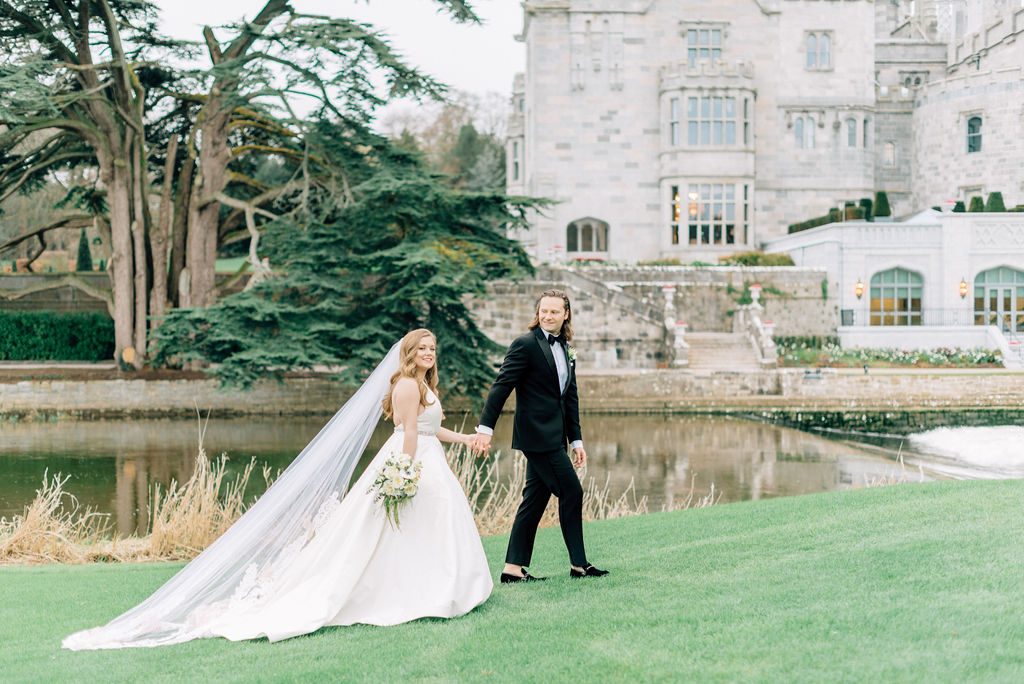 We were absolutely blown away by the gorgeous property! During our trip, the staff at The Manor were so attentive to every detail and kind. We knew wanted that hospitality for our guests.
What inspired your wedding décor? Did you have a theme in mind?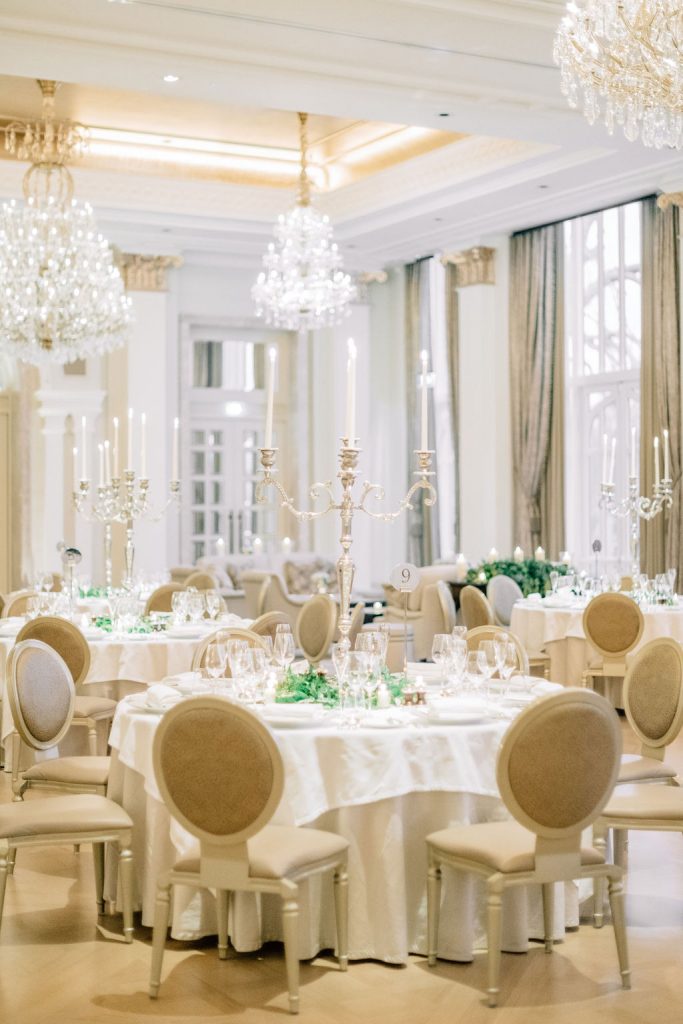 Rose gold was the main theme! I've always loved the colour pink and my first piece of jewellery I received as a child was a rose gold necklace from my Great Grandmother. Since then, I've always loved rose gold, and my engagement ring is rose gold, so we carried that theme throughout. Hence the pink champagne tower!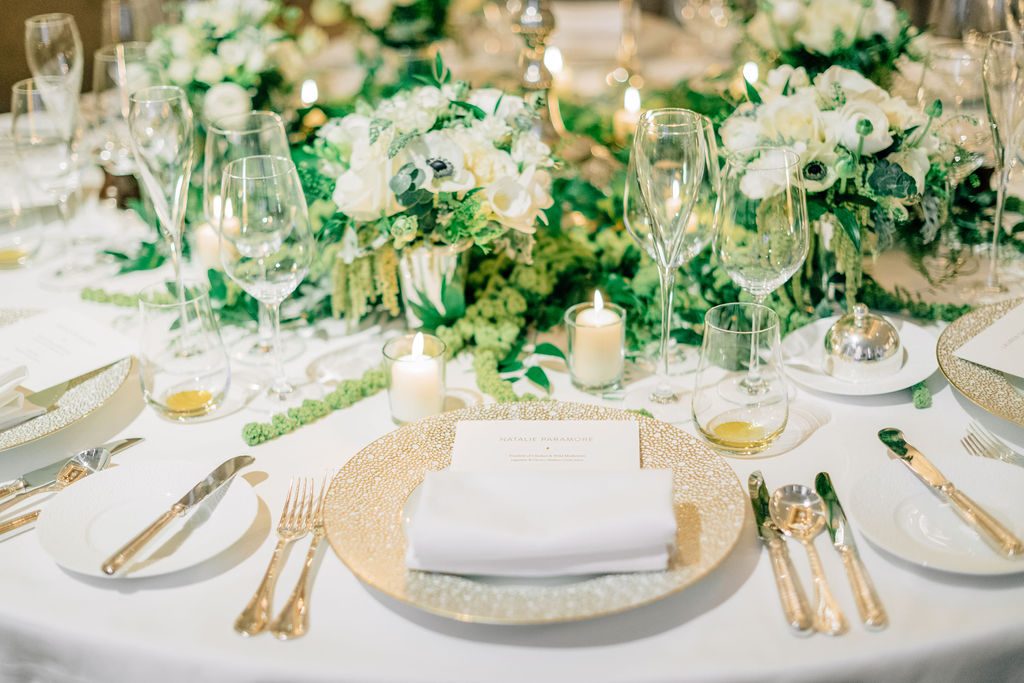 How did you choose & decide on wedding colours?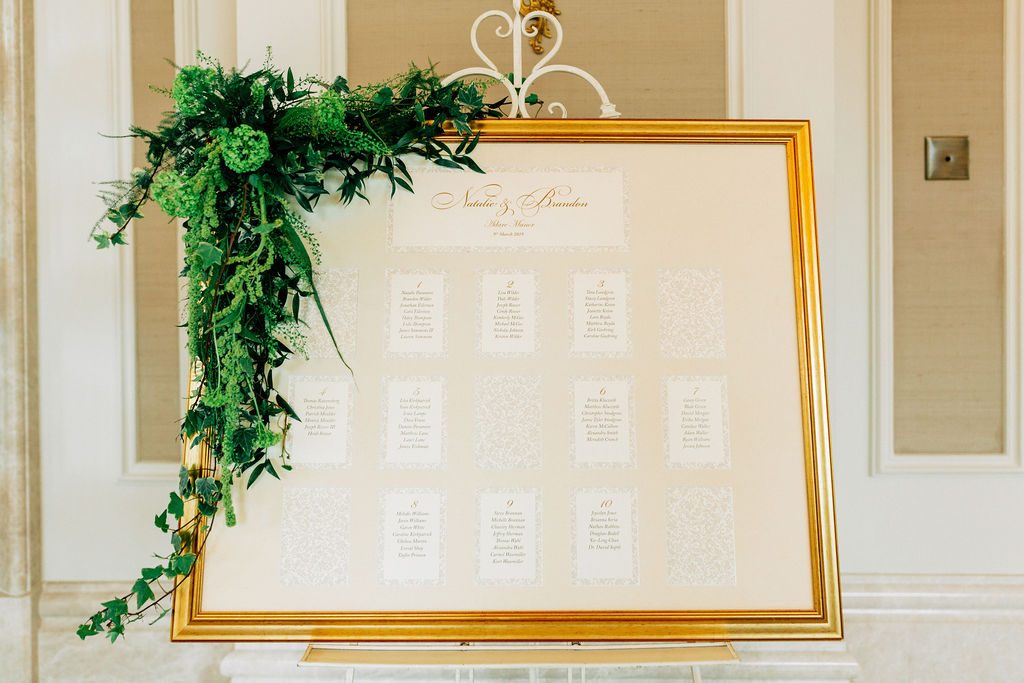 I didn't want everything to be pink, so we went with classic, crisp white and hues of green from the florals and greenery in the bouquets and table settings.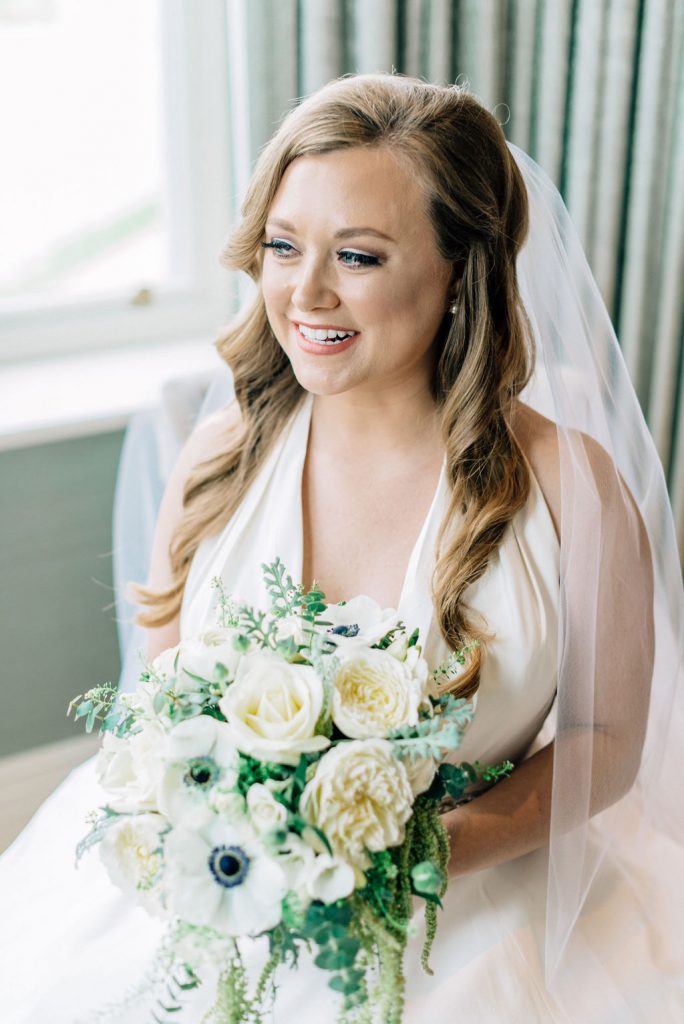 Which part of your wedding did you want to WOW your guests?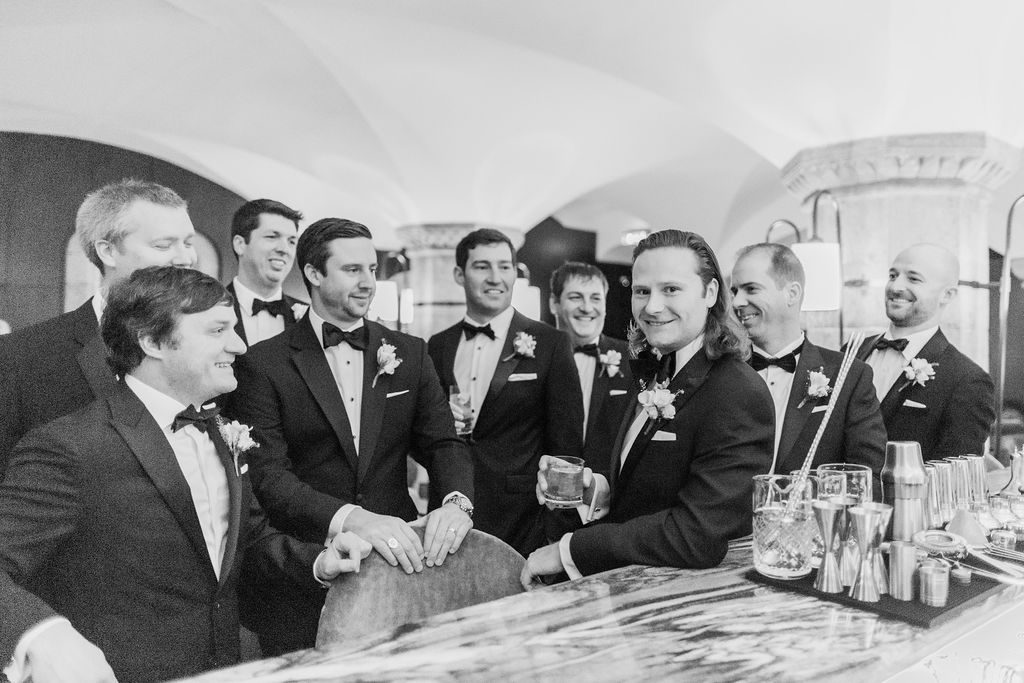 Adare Manor is stunning in and of itself, so we knew they would be WOWed by their first impression. From there, we really wanted to think through our guests experience at the wedding and how they would feel throughout the day. We wanted to everyone to feel comfortable and though of. So we made sure to have plenty of seating, drinks and Adare Manor was especially great at creating personalized menus for our guests with dietary restrictions. Also, we loved our officiant, a local Druid Priest, who created such a unique ceremony for us and even included a hand fasting ceremony. We also really love the champagne tower!
What was your absolute favourite part of the day? Does your spouse have a different favourite?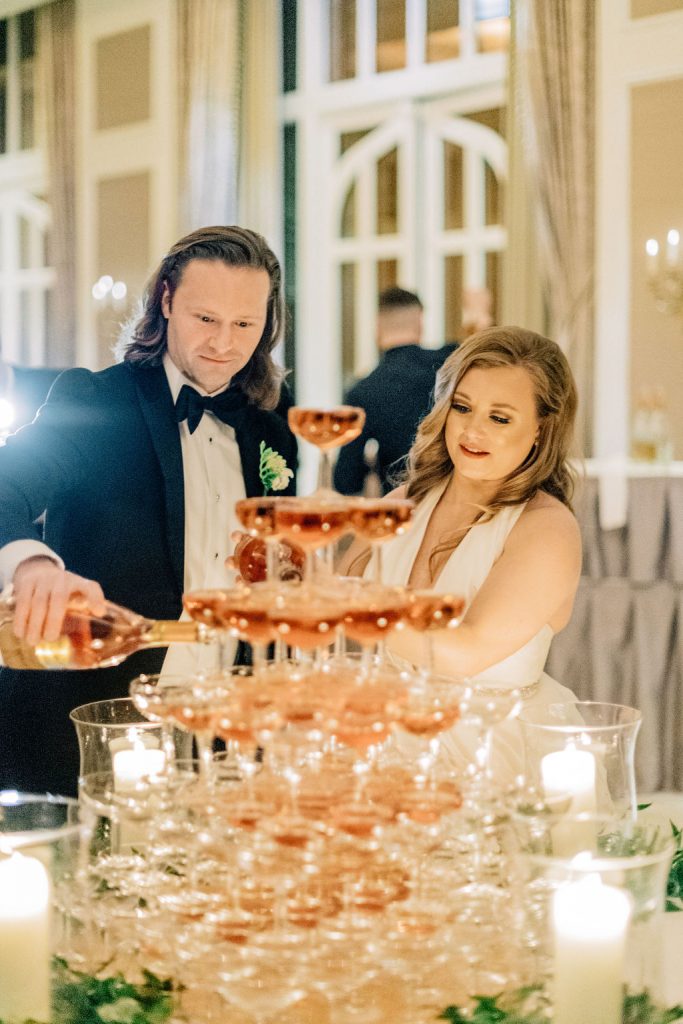 The ceremony and champagne tower were two of our most favourite moments!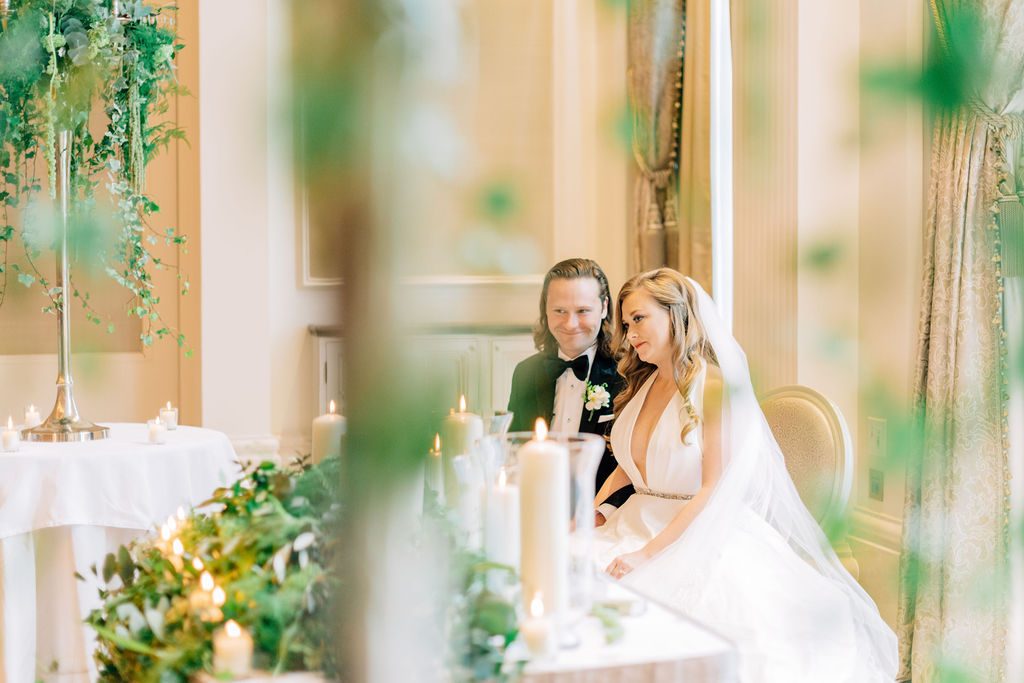 What was the biggest challenge you faced in planning your wedding?
Michelle and her team honestly made everything so easy for us! Once we made a decisions on something we wanted, she made it happen! Even if that meant going through several sommeliers to get pink cava from Spain!
What has been the best part of planning?
We really enjoyed planning the rehearsal dinner which was a pub crawl through the town of Adare! It was so fun and knew it would be really memorable for our guests. Michelle was able to coordinate everything with the local pubs and it went off without a hitch!
Did you write your own vows? If so, was it rather tough or easy?
We wrote our vows and it made it so special. Even though it was nerve racking thinking about writing them, we are both so happy we did it!
What websites, apps etc. did you use to help you plan?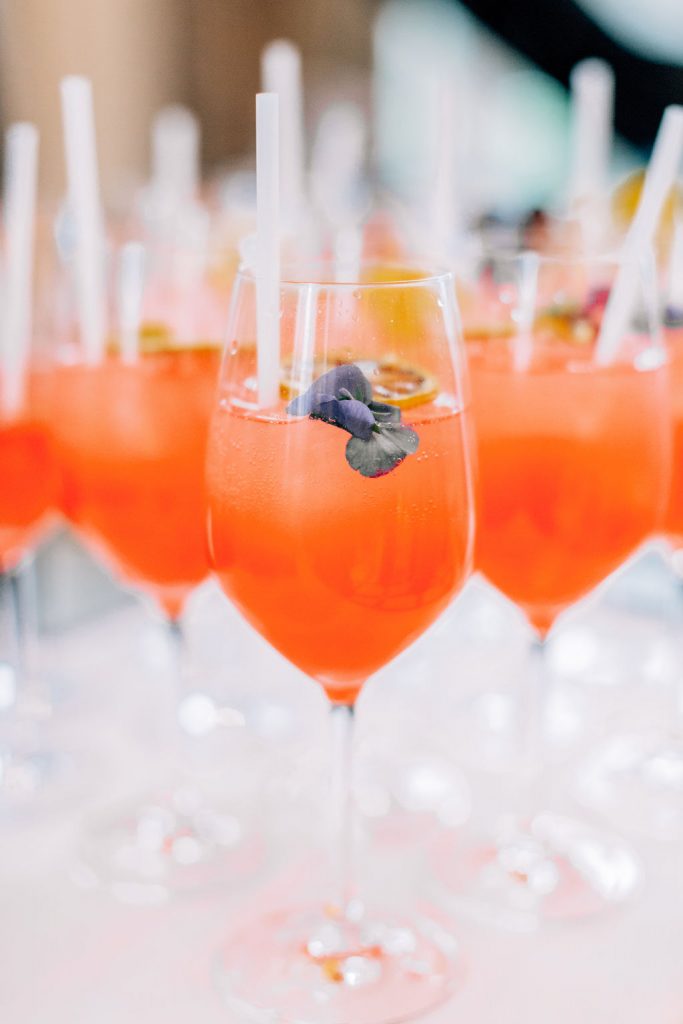 Pinterest mostly! Choosing the right wedding planner was so key. Because we wanted to use lots of local businesses, not all of them had great websites, so Michelle and her team brought in the right people and made sure everything was perfect! Even the out of season, anemones (flowers), that I wanted for my bouquet.
What is your best piece of advice for couples reading this?
If you're planning a destination wedding, especially one far away or in a different country, getting the right wedding planner and venue is so important! They will be able to help you find all the right vendors and execute things when you aren't able to be present. We wouldn't have been to pull this off any other way!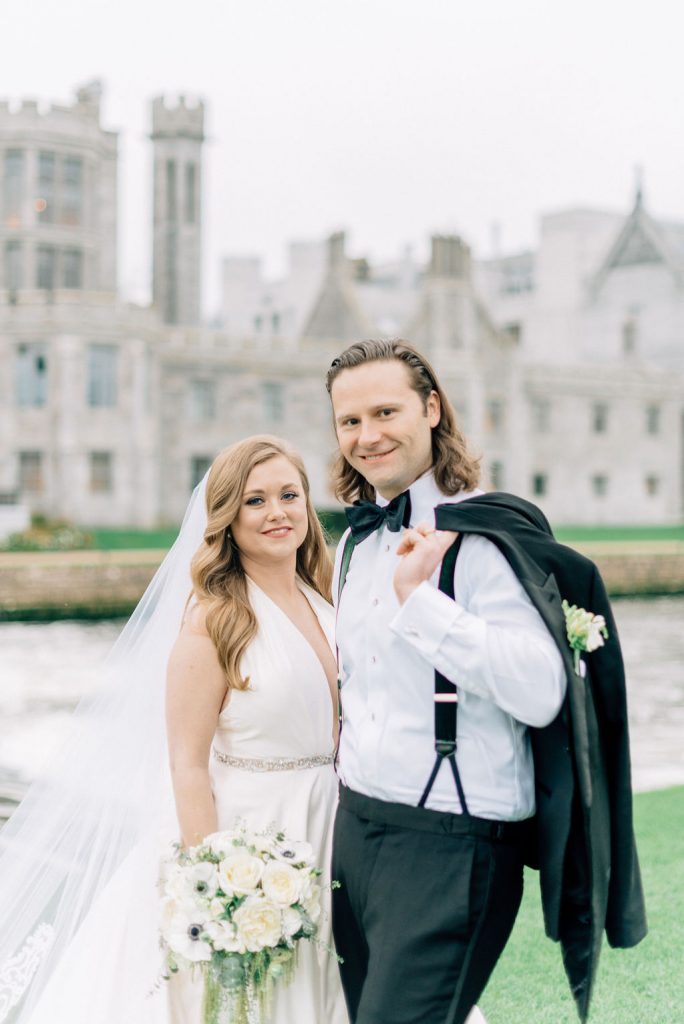 We enjoyed every bit of planning this spectacular wedding and we're wishing Natalie & Brandon a lifetime filled with laughter, good food and loving memories!
xxx
Thanks to the fabulous team of vendors who helped us create 'A Phenomenal Wedding At Adare':
Wedding Planning & Styling – Dream Irish Wedding
Wedding Venue – Adare Manor
Photography – Studio Brown
Videographer – Bride & Groom Films
Flowers – Lawless Flowers
Entertainment – Bentley Boys
Celtic Officiant – Dara Molloy
Hair & Make up – Catherine Hickey