2017 will be perfect for brides looking to make a statement. Whether it's skin baring or elegantly sexy, This Is What Brides Will Wear In Spring 2017.
Dresses With A Deep Plunge
A deep V-Neckline flatters the upper body and stretches the frame. The trending, plunging necklines give dresses a feminine look, whether it is down to the waist as in Isabelle Armstrong's dress or relatively discreet like in the gown by Irish designer Louise Kennedy.
Dresses That Are Not An Illusion
Sheer elements ranging from modesty cut-outs to full-on see-through tops and dresses. While Hayley Paige's dress puts a floral illusion on the arms of every bride, Mira Zwillinger leaves no room for imagination with her fully see-through wedding gown.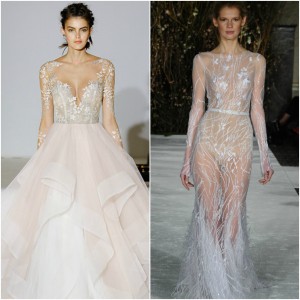 Dresses With Spectacular Trains or Veils
Trains and Veils – probably the two most classic elements of wedding gowns are now adding some glamour to the dresses. Veils and trains like in Oscar de la Renta's and Peter Langner's dresses are accented with lace, beading or even Swarovski crystals and range from shorter church length to almost Royal cathedral style.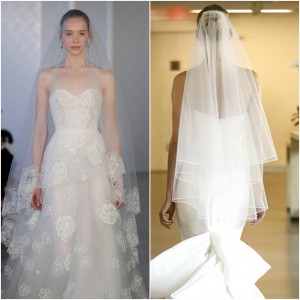 Dresses With Capes
If you don't want to wear a veil with your wedding dress, maybe opt for a full-length (Legends by Romona Keveza) or shorter capelet (Monique Lhuillier). Both add dimension to the dress and give it a modern touch. It also gives the option of quick and easy outfit changes for the reception.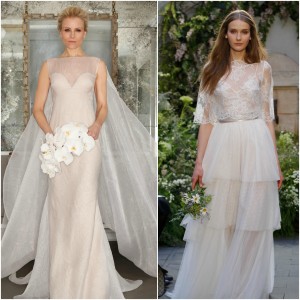 Dresses That Look Like Underwear
Oscar de la Renta played up corsetry in a reserved way by accenting the top with lace, while Vera Wang displayed creative panelling and beading.
Dresses With Modular Elements
The designers took function and practicality into action and created detachable or convertible elements like skirts (Reem Acra) or capes (Legends by Romona Keveza) to their wedding dresses.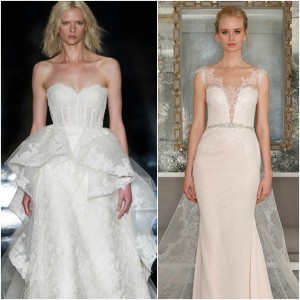 Dresses That Come Off The Shoulder
Isabelle Armstrong went with straps that seem to slip-off, while Irish designer Patrick Casey designed a dress with a traditional open neckline. Both interpretations are sure to be seen more often on the runway and down the aisles.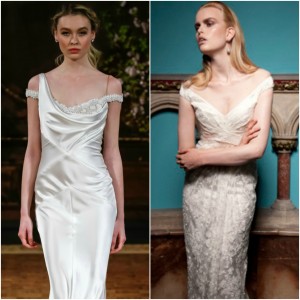 Dresses With The Non-Wedding Look
More and more brides now want a dress that is accessible for different situations, like the rehearsal dinner, the reception and the after-party. Carolina Herrera designed a maxi-shirt-dress that is sure to stun the guests and Naeem Khan's gold flapper dress works for every part of the wedding, expect maybe the ceremony.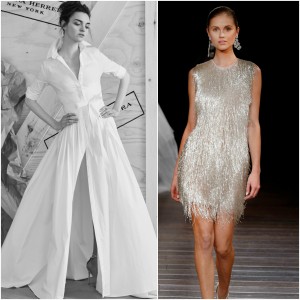 Dresses With Bows
Bows of all sizes and in all places are definitely trending in 2017. The detail looks very feminine, no matter if it's on the train (Caroline Herrera) or accentuating the waist like a sash (Sachin & Babi).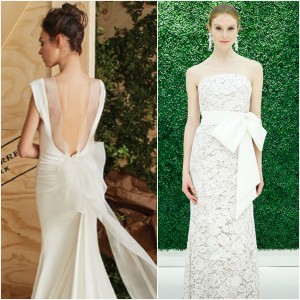 Dresses With Pants
Last, but not least is the suit or pants trend. Whether the outfit is simply pants with a top, like in Elie Saab's outfit or a skirt was added to a jumpsuit as designed by Monique Lhuillier, this trend is sure to be different.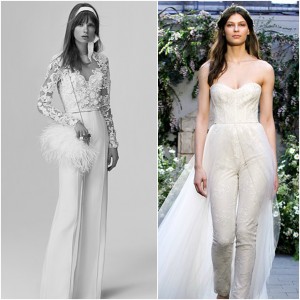 For more inspiration, check out our Pinterest board 'Wedding Dresses'.