You are just engaged (congratulations!) and you are now starting to look for your perfect wedding dress but there are so many wedding gowns silhouettes that you do not know which one suits your body shape best? In today's blog we will show, based on your body shape, "which wedding dress suits my shape".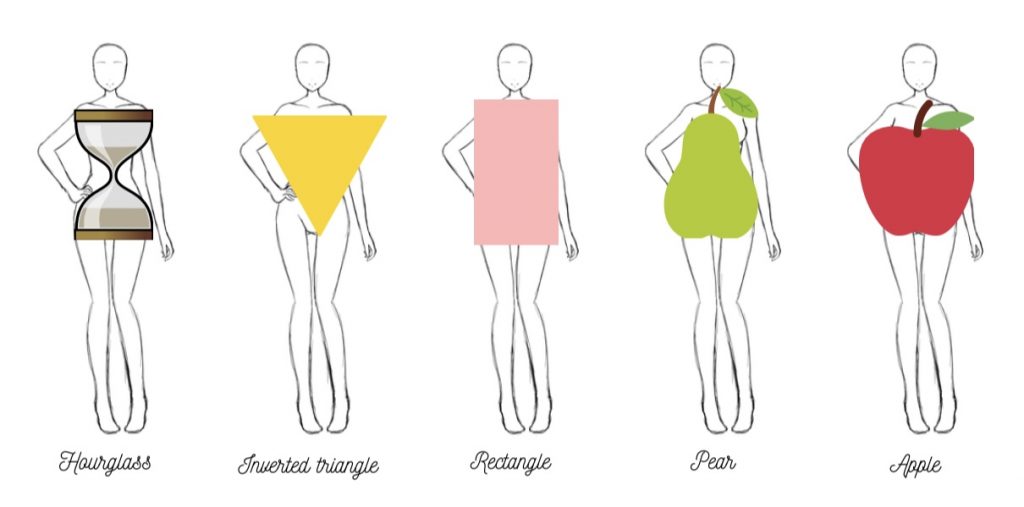 Hourglass, inverted triangle, rectangle, pear, apple? Let's see what these body shapes are characterized by.
HOURGLASS
If you have a defined bust and waist, a neat bottom and hips that's means that your body shape is an hourglass. You have been lucky with natural curves it is time to show them off! You want to pick a dress that will accentuates your small waist: a mermaid dress is perfect for you. But with an hourglass shape you are lucky and almost every style suits you including A-line dress or a sheath for example.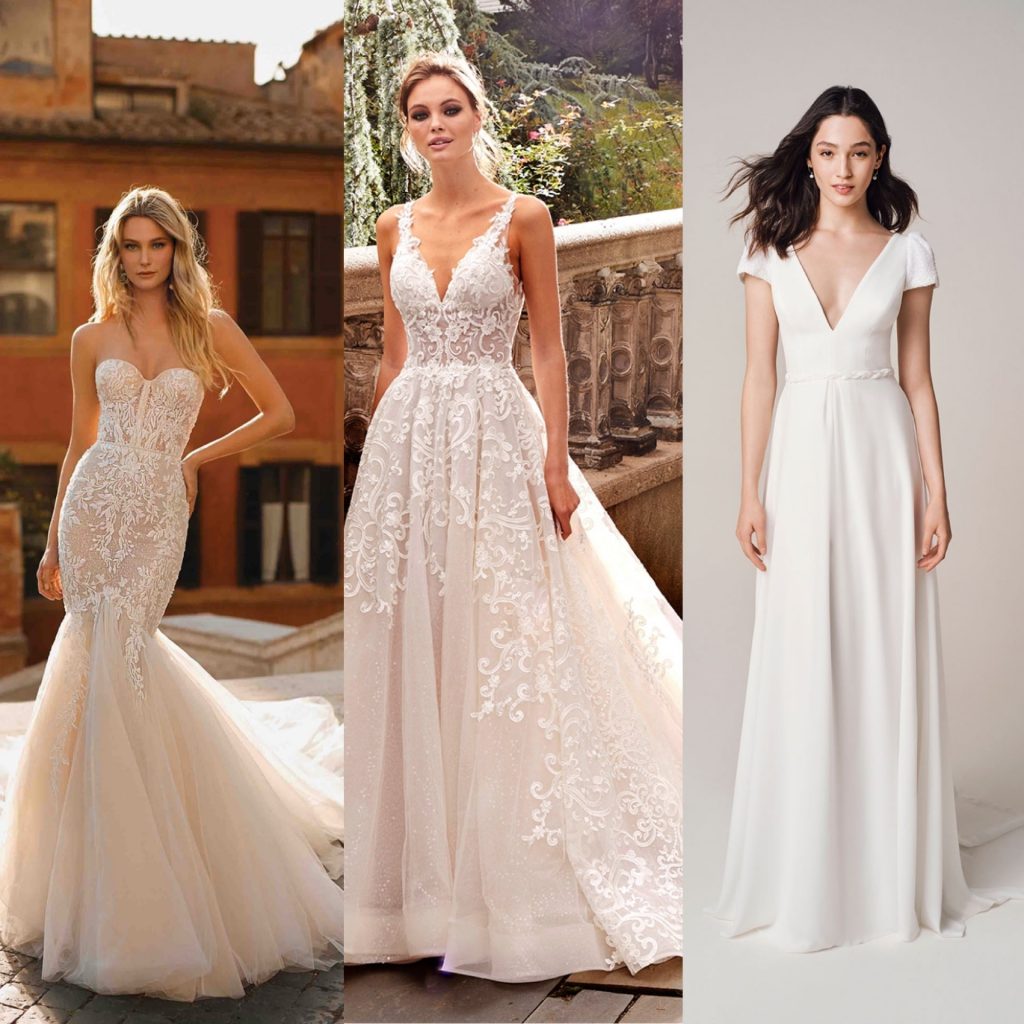 INVERTED TRIANGLE
If your bottom half is smaller than your top, straight and squared shoulder line, a little definition between waist and hips with flat hips and bottoms this probably means that your body shape looks like an inverted triangle.
The goal is to highlight your assets and hide your weaknesses. A ball gown dress is perfect to balance out a heavier top as the larger dress bottom will create a symmetry. The A-line dress is also a perfect fit for you to create an illusion of curves at the bottom.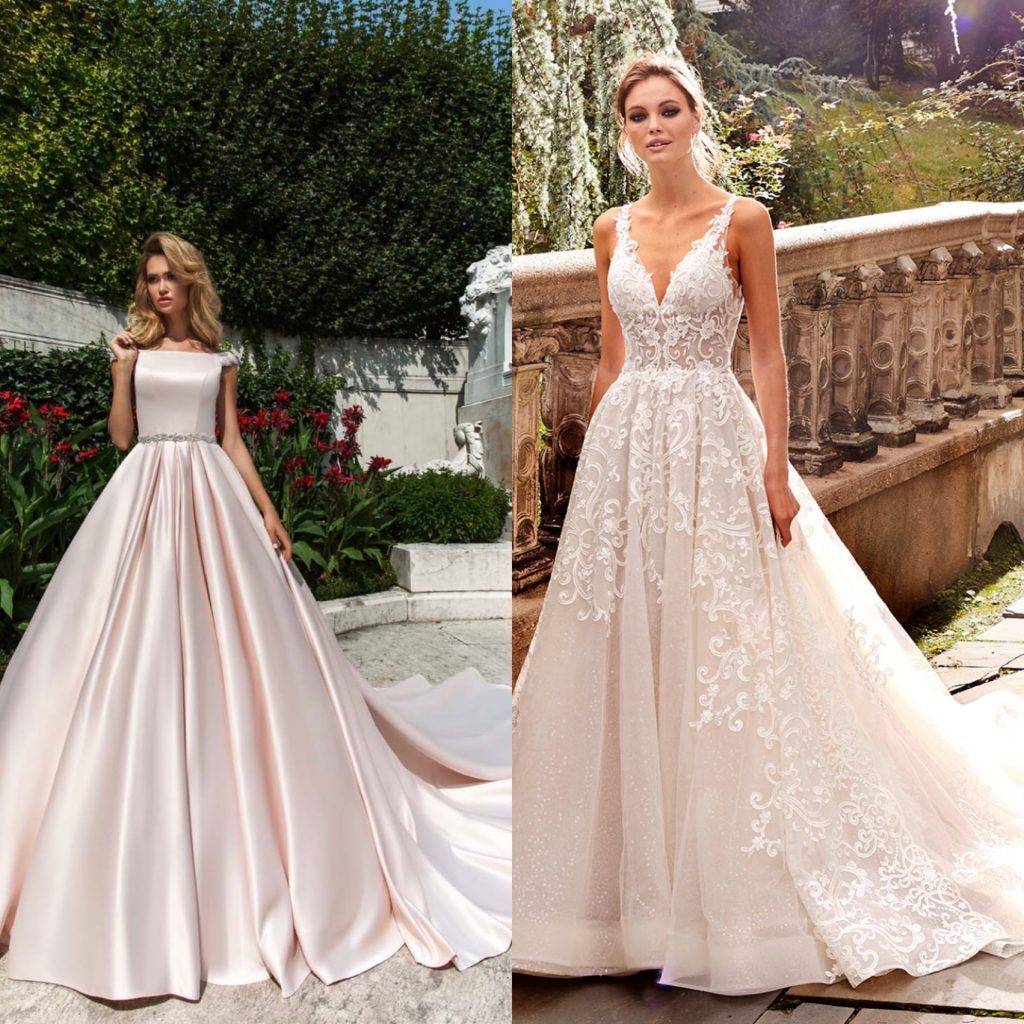 RECTANGLE
If you have straight shoulder line, straight hips, and bottom as well as very little waist definition and average tummy your body shape looks like a rectangle.
The goal with this body shape is to create the illusion of more curves, the sheath dress is the perfect choice. Do not hesitate to use a belt to create more curves and to highlight your waist. If you don't like dresses close to the body an A-Line dress can be the right compromise to create that illusion of natural curves.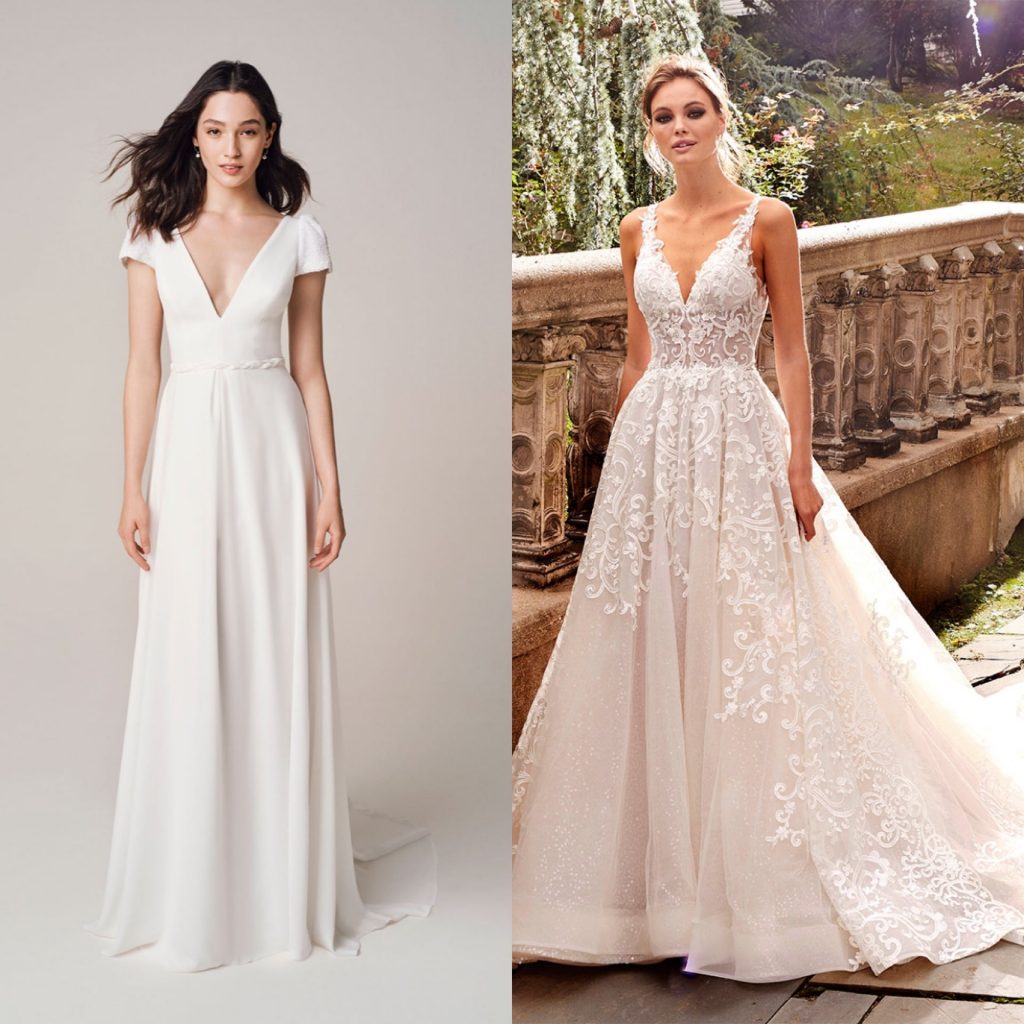 PEAR
If you have full hips or thighs, a defined waist, shoulders that are narrower than your hips, and a small top half as well as small bust your body shape is considered pear shape.
Your goal will be to create more balance and to make your hips and thighs looks thinner, a ball gown, A-Line and empire waist dresses are the perfect fit for you to make your body shape looking more like an hourglass silhouette.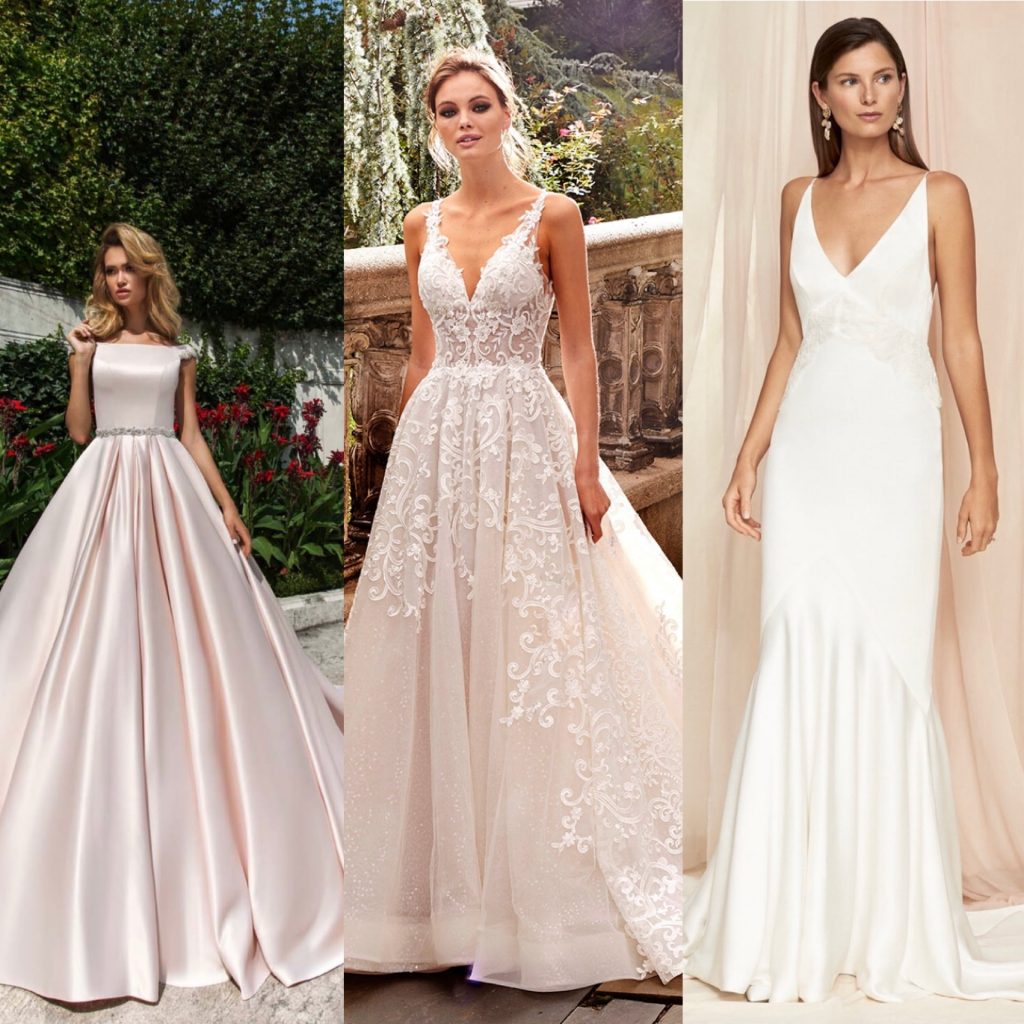 APPLE
If you have rounder shoulders, average to big bust, and fullness around the middle that's means that your body shape is apple.
Contrarily to the pear shape the goal here is to create more volume on your bottom, the perfect dresses for you will be not only a ball gown, but also an empire waist dress or even an A-line dress which will adds volumes and also highlights your waist.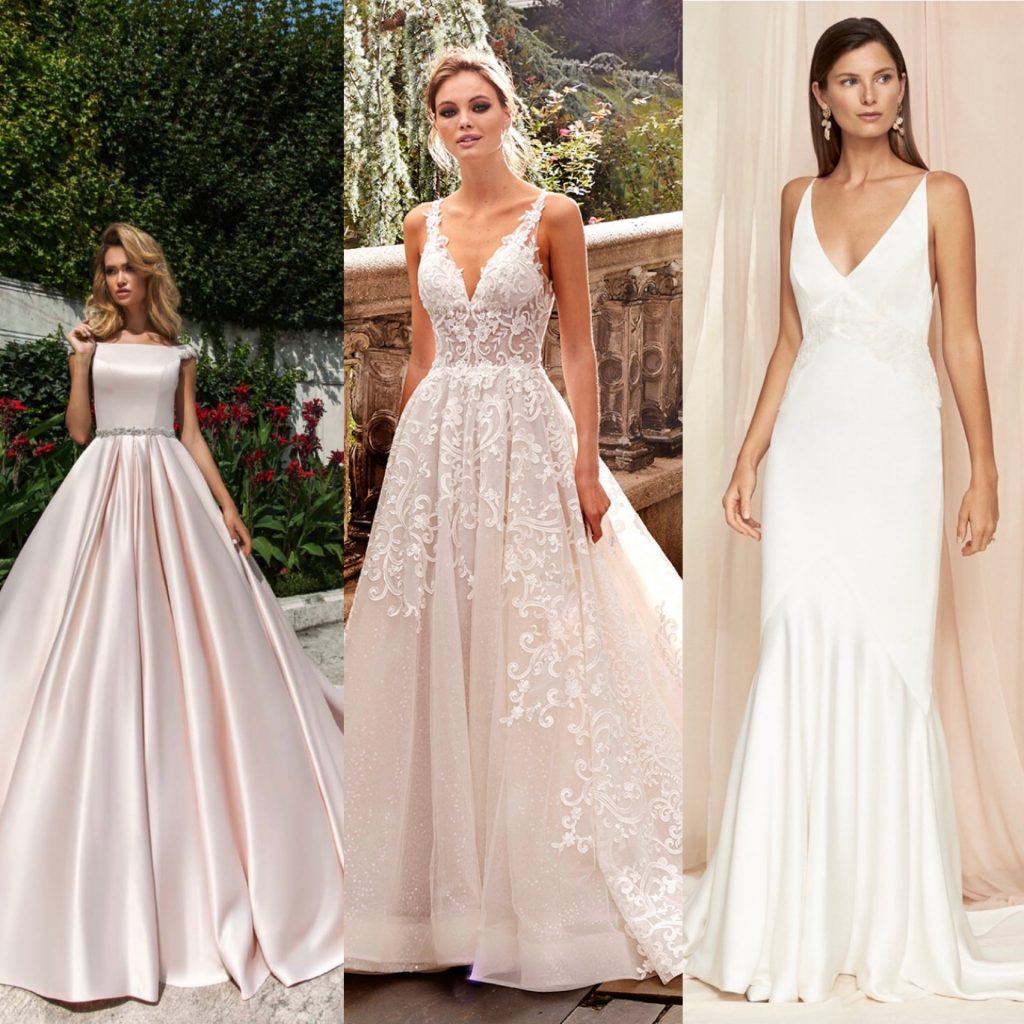 Now that you know what your body shape is and which wedding dress will flatter you the most on your wedding day, you are ready to go find your perfect dress, you know THE one you have dreamt of for so many years.
If you have any questions about choosing your dress or any other wedding planning queries just drop us an email.
We look forward to hearing from you, xx.
Mermaid dress from Berta Privée: https://www.berta.com/portfolio/no-2/#lightbox[group-233132]/2/
A-line dress from Kleinfeld Bridal: https://www.kleinfeldbridal.com/product/eve-of-milady-a-line-lace-v-neck-wedding-dress-1629/
Sheath dress from Jesus Peiro: https://www.jesuspeiro.com/fr/vestido-novia/258/
Ball gown dress from Wona Concept: https://wonaconcept.com/josleen/
Empire waist dress from Savannah Miller: https://www.savannahmiller.com/breathless/luna?rq=luna
To read more blog's article: https://www.dreamirishwedding.com/blog/