The Big Trend of 2015: "Coloured Bridal Gowns" dazzle your guests with your wedding gown. Be ready for beige, peach, mauve, gold… Colours are the new white!
Pink and Peach
Many brides wear a white bridal gown or a colour very close such as ivory on their wedding day. But because the majority wear white doesn't mean that you have to! If you want to wear a coloured dress but in a discreet shade pink and peach are great options. These romantic colours will highlight your femininity. We like the pink gown by #AlitaGraham and the various shades of peach by #JennyPackham.
Beige and Taupe
If you are looking for a neutral colour for your wedding gown you can opt for taupe or beige. These colours are luminous without being garish and will highlight your beautiful bridal look. You can opt for any shape of dress and add various details such as embroidery, lace or applique. We like these beige and taupe gowns from #KellyFaetanini and #RomonaKeveza collections.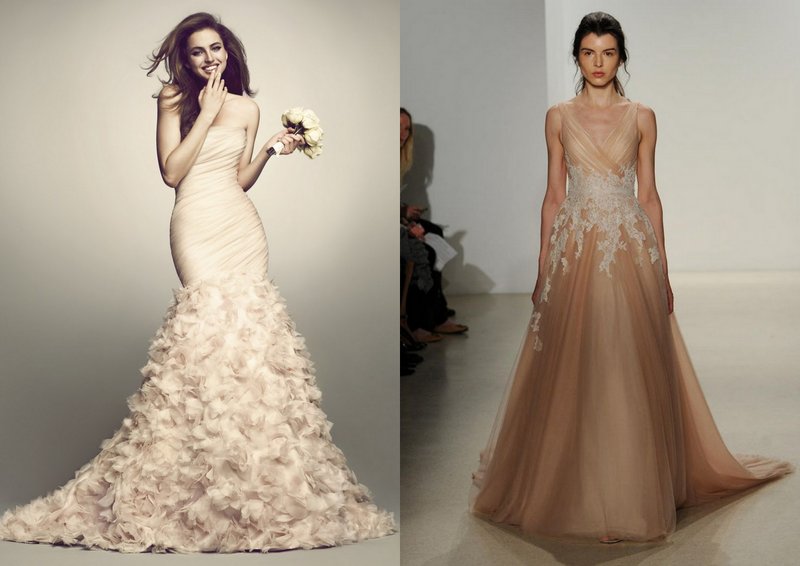 Blue and Mauve
If you would like to wear quite pale colour but still bring a touch of originality to your bridal gown blue and mauve are ideal. These colours suit every kind of skin and are perfect with any shape of gown. You can wear a blue gown on your wedding as your something blue and a pale blue or violet gown as a symbol of serenity and loyalty. We like the blue #NaeemKhanand the mauve #MoniqueLhuillier bridal gowns.
Yellow and Green
Yellow and green are more uncommon colours for bridal gowns perhaps because they are more difficult to match with your bridesmaids dresses than other colours. But these two natural colours are gorgeous, especially for a spring or a summer wedding, either on pale or tanned skin. Surprise your guests by getting married in a yellow or green gown! We like these #CarolinaHerrera and #VeraWang designs.
Silver and Gold
A sparkling colour for your wedding gown is a very trendy choice. It will highlight your sensuality but also your originality. Whether you prefer the cold shine of silver or the warm sparkling of gold you will be a real princess on your big day. We like the sophisticated bridal gown and veil designed by #ElieSaab and the simpler yet stunning gold gown by the Irish designer #THEIA.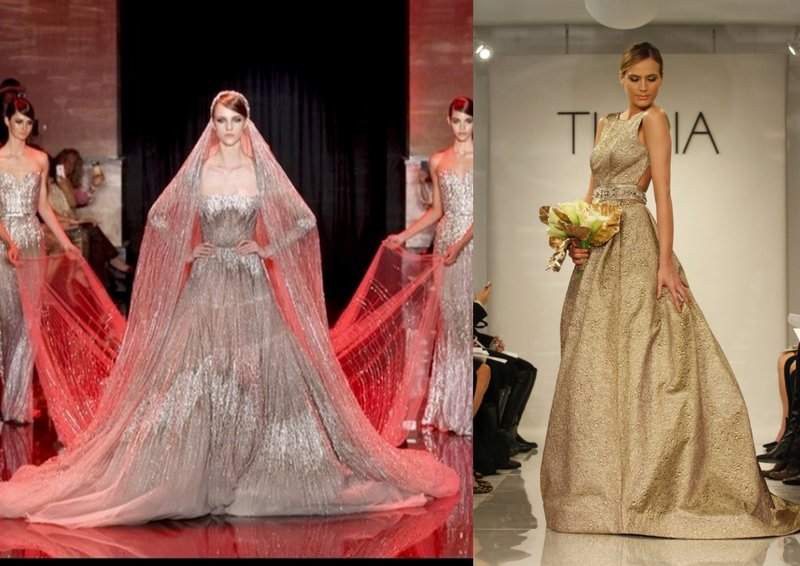 Red and Black
Wearing a red or a black gown on your wedding day will make you rock! Red is the colour of love and passion which perfectly lends itself to a wedding. While black will make you look elegant and sensual for your big day. If you are a little unsure about wearing a red or black coloured gown do not worry: everybody will know who the bride is! We like the red #Marchesa gown and the black #JustinAlexander one.
Brides, hope our BLOG today helps you with the choice of you bridal gown colour.
Feel free to contact us for further advice:
info@dreamirishwedding.com

Inspirational ideas on our Pinterest galleries:
https://www.pinterest.com/dreamirish/
https://www.pinterest.com/wcwireland/