1. Use seasonal themed stationery.
When planning a fall wedding, kick off the theme with your save the date cards and invitations. Use fall colors and design ideas maybe even a leaf monogram.
2. Keep guests warm.
It might be cold outside… prepare accordingly! Offer throw blankets for smokers to borrow, a pashmina for bridesmaids, and a hot cocoa/ coffee warming station to keep guests cozy. Suggest guests have a coat as part of their wedding day attire.
3. Use nature's backdrop to your advantage.
Don't miss out on the changing colors that surround you. When you're planning a fall wedding, don't forget to fully embrace the backdrop provided by nature by taking plenty of wedding photos outdoors. Whether or not you use the changing leaves as part of your 'official' wedding decor, it's still a great idea to get a photo with them. This will help you remember exactly how it felt on your wedding day and will look very pretty. It's also agreat way to bring in the fall feel if you aren't using a traditional fall color palette.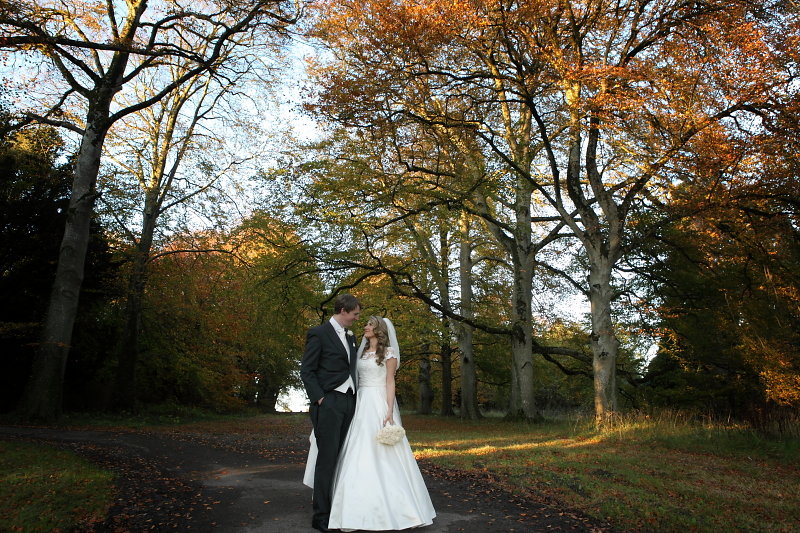 4. Share fall foods & beverages.
Addition to hot cocoa and coffee, you can also serve seasonal teas, hot or cold apple cider, mulled wine, nut canapés, and pies are all part of the fall fare. Apple pie is the favourite autumn dessert!
5. Seasonal decor for your fall wedding.
Use gourds, pumpkins, and corn stalks when decorating; for a rustic autumnal theme, seat guests on bales of hay (covered in blankets!). Decorate with fall themed centerpieces. Sprinkle colorful leaves down the aisle in lieu of rose petals; carry a bouquet of wildflowers lieu of traditional flowers and sheaves of wheat pew ends
6. Dress bridesmaids in rich hues.
Pops of red, brown, orange, or gold are a few colors to consider when planning a fall wedding.
7. Wedding party gifts.
Give guests to your bridal attendants that are cozy-themed. Warm moccasin-style slippers or a cozy plaid blanket or silver hip flasks for the guys are just a few ideas.
Contact us : info@dreamirishwedding.com