Looking for the perfect attire for your wedding day, but not quite sure what to choose? Read our BLOG Trends For The Groom To Be – it is sure to help.
While you may wish to wear a quite fashionable outfit, it is a long day so ensure you feel comfortable in it.
Suits
For a daytime wedding, a traditional suit with jacket and matching trousers is appropriate.
Trending in 2016/2017 are blue suits with brown leather accessories to compliment the look.
Another trending colour is burgundy. This unique colour is suitable for the groom, who prefers to wear a different colour to his groomsmen. A burgundy suit is ideal for an autumn or winter wedding, just make sure the bridesmaids' dresses don't clash.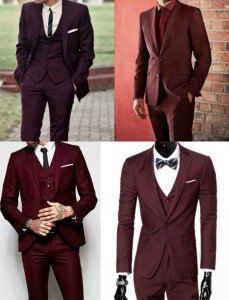 Grey suits are the top colour for 2016. This colour goes with so many other colours, you won't have to worry about clashing with the bridesmaids too much. Mix and match your own suit and your groomsmen's by choosing different grey shades and all the guys are sure to look very dapper.
Tweed or checked suits are also the 2016/2017 trend. There are plenty of styles to choose from and tweed gives every groom a timeless and rustic look. They will fit in very well for your wedding in Ireland, as tweed would be considered as a big part of Irish heritage and culture.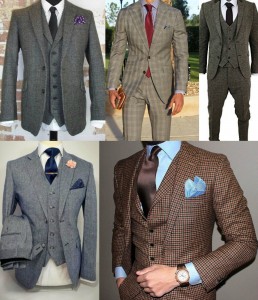 For the groom who would like a form-fitting suit, the super slim fit option is definitely a winner and right on trend in 2016/2017.
Jackets
Tuxedo
If you are having a formal – black tie wedding, the tuxedo is a must. The choice of tuxedo jackets both in style and colour are endless.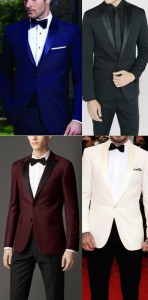 Tailcoat
A jacket cropped in the front with two tails in the back is usually worn at an ultra-formal evening wedding.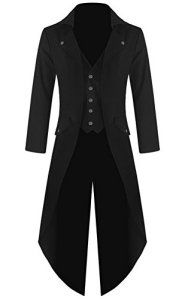 Morning coat
For formal daytime weddings, the groom usually wears a morning coat. This jacket is short in the front, long in the back and shows a waist button in the front and a coordinating waistcoat (vest) underneath. Remember to wear the last button of the waistcoat open!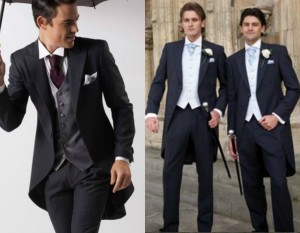 Collars
Wing collar
This collar style is a stand-up collar with downward points and is worn most often with tuxedo jackets and is the most formal choice.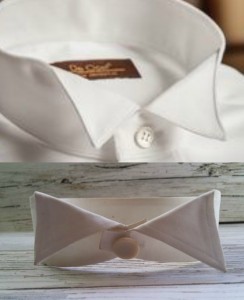 Spread collar
This collar reminds of a standard button-front shirt, but features a division between the points in the front.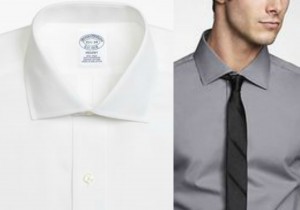 Neckwear
Bow tie
Bow ties are worn with a classic tuxedo and come in several colours, besides the classic black option. While white bow ties are for super-formal events and worn with the tailcoat, coloured bow ties are suitable for any occasion.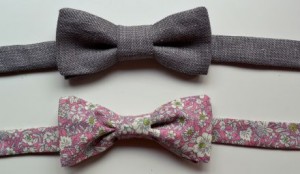 Necktie
To create a more casual, yet elegant look, add a black necktie to compliment your tuxedo.
Accessories
Vests, a.k.a. waistcoats
For formal evening weddings, a waistcoat is a must. Wearing a vest gives the groom the option to add some personality to his outfit. And of course the groom can take off his jacket and still look elegant and chic. The vest can be coordinated to the bridesmaids' dresses.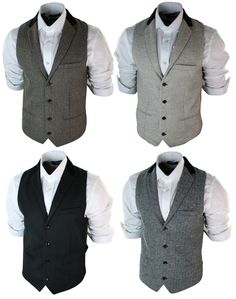 Cummerbunds
Usually in basic black, the colour of a cummerbund can also be adapted to the colour of the bridesmaids' dresses or the wedding colour. Opt for a cummerbund, if you don't want to wear a vest or waistcoat.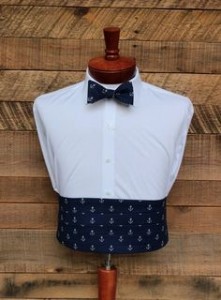 Cuff links
Adding cuff links is a great and easy way to add a personal touch to your wedding outfit. Cuff links add a lovely elegance and class to the outfit. Available in every colour, shape or even theme, there is something for every groom. They also make a lovely gift for the groomsmen.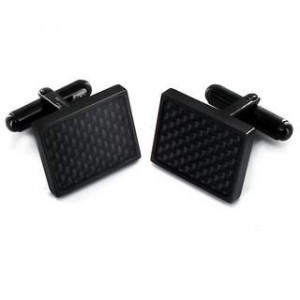 For more inspiration, check out our Pinterest board 'Groom Attire Trends 2016/2016'