For this week's blog we are back with part 2 of 'How to look fabulous on your special day'. To all the lovely brides who loved last week's blog, we have more amazing bridal trends for you! By now you know all about the latest bridal trends for 2022/2023 regarding gorgeous wedding attire, but there's more. This week we are excited to share even more of our favourite bridal trends to expect in 2022/2023. Keep reading to learn about the latest trends in Bridal Hairstyles, Make-up, and accessories!
Bridal Hairstyles
Ponytails
Simple yet elegant and with the right stylist this hair style becomes absolutely marvellous for your wedding day! According to professional hairstylists this trend is becoming significantly popular and will be seen among brides all over the world. We adore this trend as it complements the bride's natural complexion in a classy and elegant way. If you want to take your ponytail to the next level, adding small flowers or accessories makes a big difference!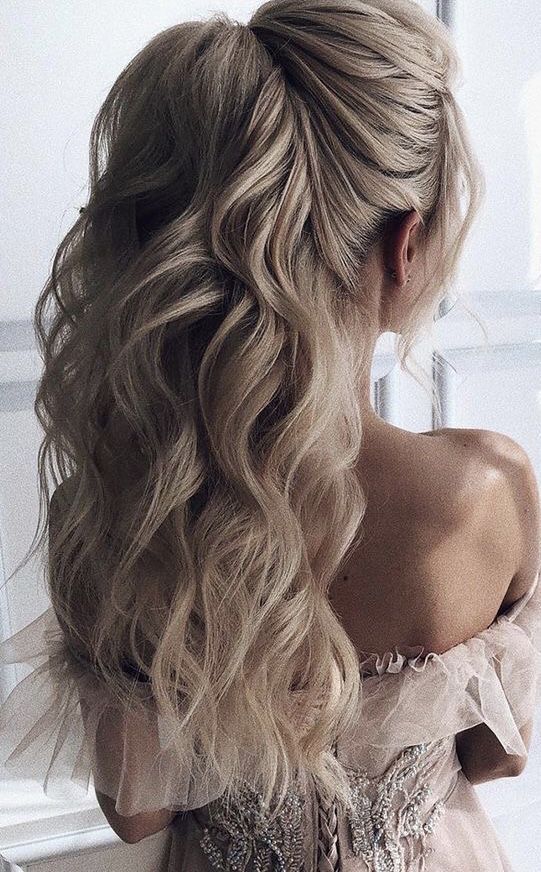 Updo & Semi-Updo
This bridal trend might not be entirely new, but hairstylist have become more creative, and we love it! Brides adore this bridal trend for 2022/2023 and we understand why as it is easily personalized to the brides wishes. New styles are created every day, each with their own twist, giving our brides a vast variety to choose from. Whether you go for a luxurious updo or simple semi-updo, you will look breath-taking no matter what you decide! Did you know this trend is not only great for brides but also for your bridesmaids?!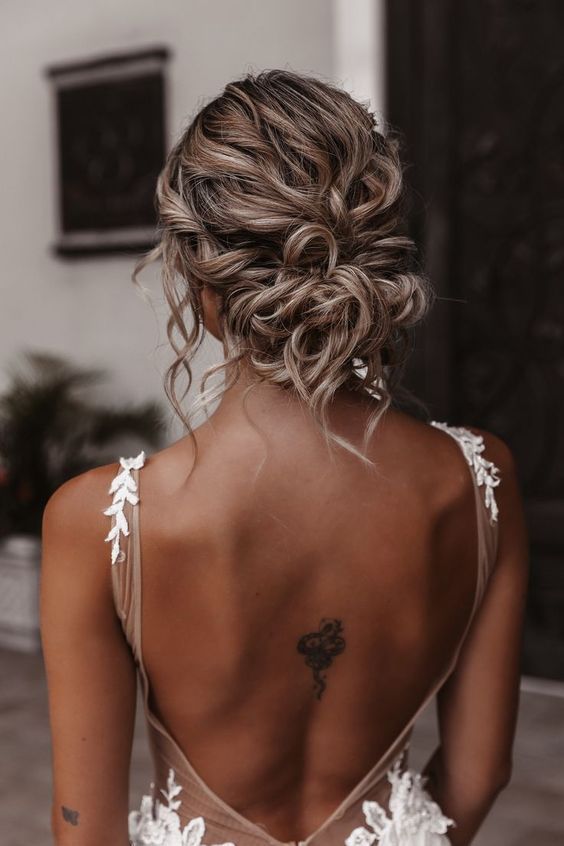 Jewels
All brides want to sparkle on their wedding day but for those who want to feel extra glamorous, keep reading! If you love diamonds, then this bridal trend for 2022/2023 is perfect for you. Bejewel your hairstyle with a gorgeous tiara, hairband, or clip, making you look like absolutely regal. This trend can be done in a subtle way with a hairclip or go all out with a diamond tiara! In case you aren't sure if this is the trend for you then we have a golden tip for you. When trying on your wedding dress in the store, play around with different hair accessories to help you decide!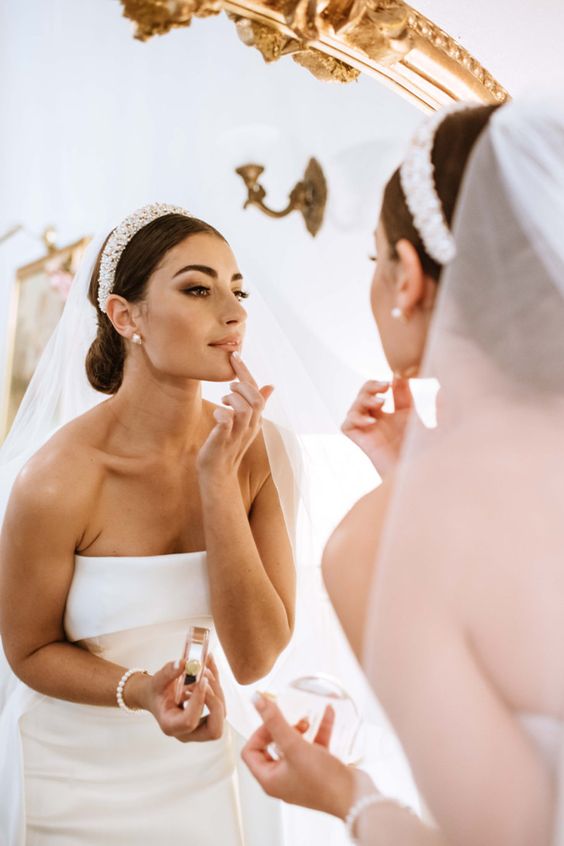 Second Hairstyle!
Go all out on your special day with a second hairstyle! This trend is perfect for brides wanting to surprise their partner and wedding guests. Changing into a second dress for the reception is getting more popular every day and now second hairstyles have arrived. This trend compliments the bride's natural beauty even more by drawing attention to her with a new hairstyle. Even without a second dress, this trend is perfect for a second look and to wow your guests!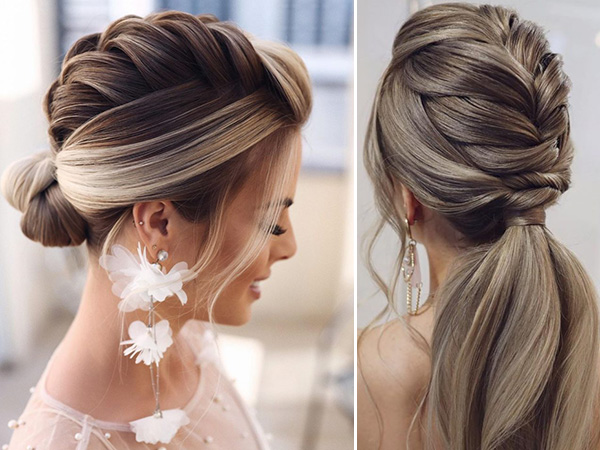 Bridal Make-up
Coloured Eyeliner
Bold, bright and colourful! For brides who are feeling bold and seek a bit of colour on their wedding day this trend might be for you. Professional make-up artists have noticed a rise in demand for colourful eyeliner, expecting a colourful wedding season in 2022/2023. Any colour is possible, it could even be your something blue! Don't be afraid to experiment a little with this trend and if needed you can seek out professional assistance.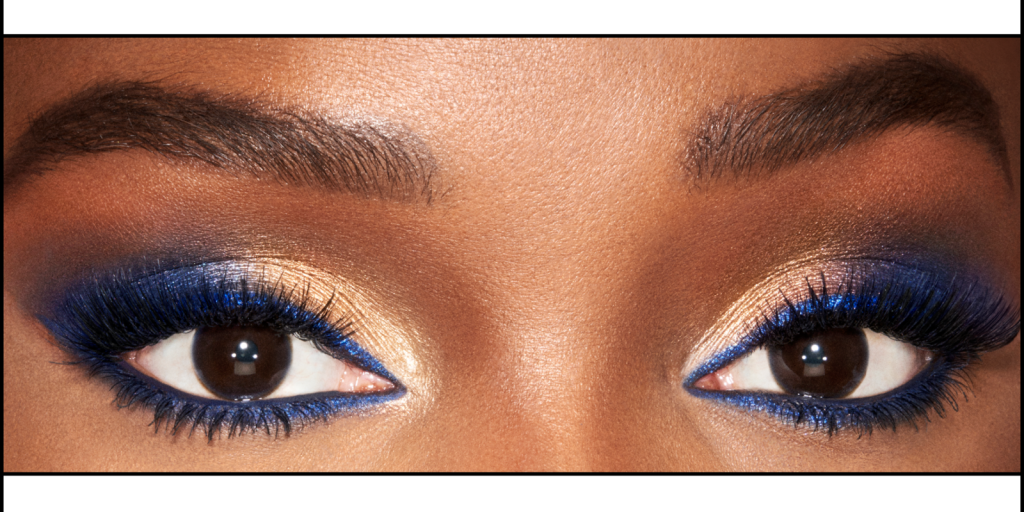 Glossy Lip
In 2023 brides are choosing to finish their look with a glossy lip, adding a soft shimmer to their face.  This trend isn't new however, make-up has come a long way and glossy lips have never looked this great! Go for a nice neutral lip or add a pop of colour underneath your lip gloss, anything is possible. With this trend brides will look classy and elegant while their lips get hydrated, how great is that?! Especially for brides who aren't big on wearing make-up, this trend provides the perfect balance between glamor and natural beauty.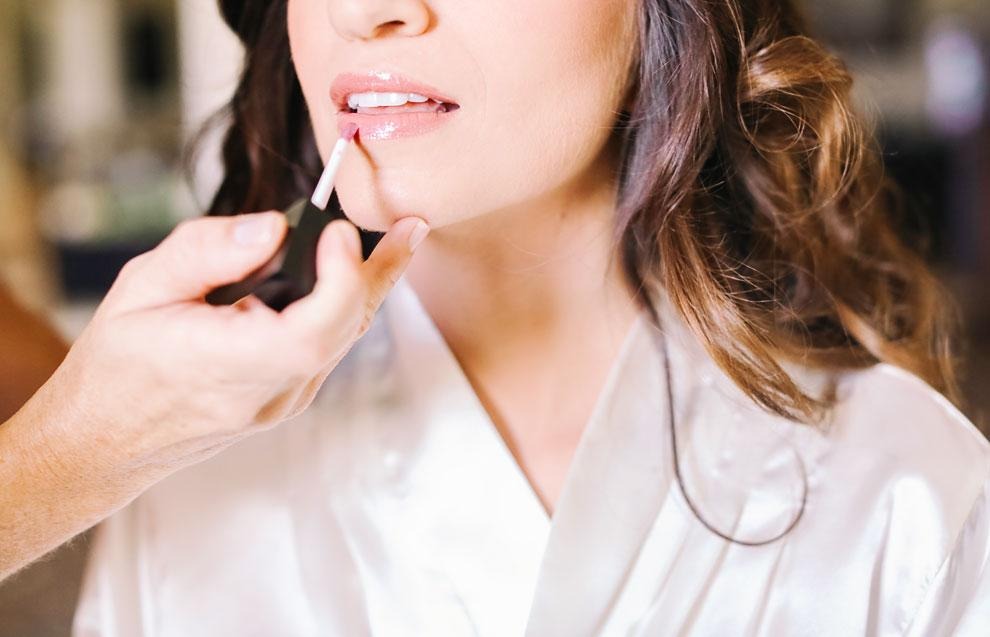 Bright, Holographic & Metallic eyes
Give your eyes a boost with this amazing bridal make-up trend for 2022/2023! This trend adds pops of colour and takes your make-up to the next level making it look extravagant. With stunning silvers, bronzes, coppers, and anything else that shines it will definitely brighten up your bridal look! When combined with highlighter on the cheeks and the bride's beauty, this trend really takes your breath away! What do you think ladies, is this trend something for you?!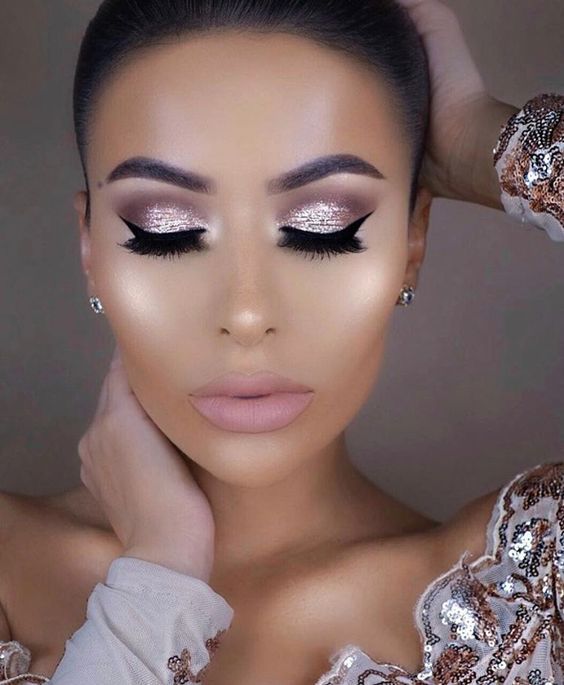 Second Make-up Look
With great enthusiasm we introduce the second make-up look trend. That's right, second make-up looks are now also a thing to consider when choosing your bridal look. It's true that a second make-up look might take some time of your cocktail reception but it's definitely worth it! A second dress has been seen before and can be expected but this trend will shock your guest for sure. For the optimal result, may we suggest combining this trend with a second hairstyle and/or dress as well!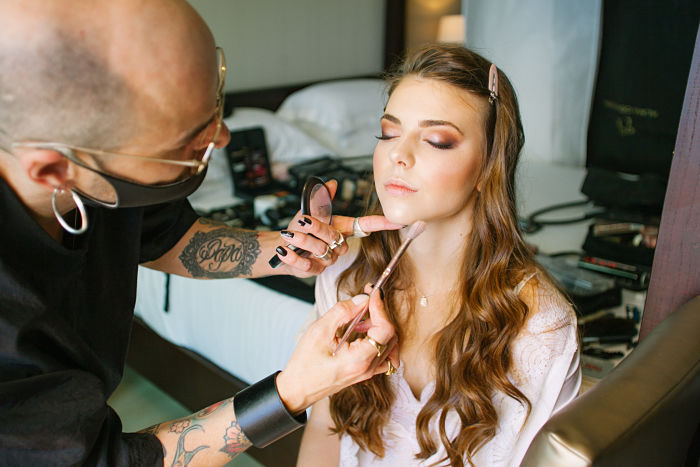 Accessorize your bridal look
Detachable Trains
Looking for the perfect way to finish your bridal look, then you might want to consider detachable trains! This amazing bridal trend for 2022/2023 will surely leave a lasting impression when you detach the train for the reception. This will transform your already gorgeous gown while also saving costs that you wanted to spend on a second gown. We are absolutely in awe of this trend and can't wait to see it on our stunning brides! What do you think, could this be the bridal trend for you?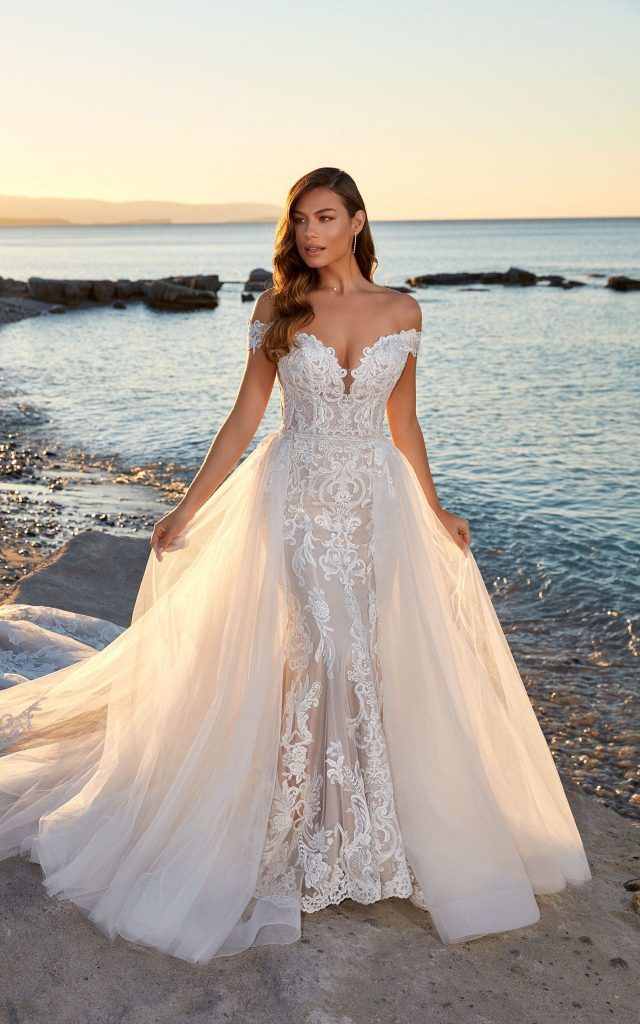 Mini Veils
Last season it was all about the birdcage veils but that has been replaced by this new trend! The mini veils taking the wedding industry by storm and is definitely a trend to watch in 2023. Chic and sophisticated when paired with a short dress but when paired with a ballgown it becomes something unexpected. Fun yet elegant in combination with an elaborate ball gown, this trend offers a playful twist on the traditional veil. Which combination with the mini veil do you like best, the ball gown or the short wedding dress?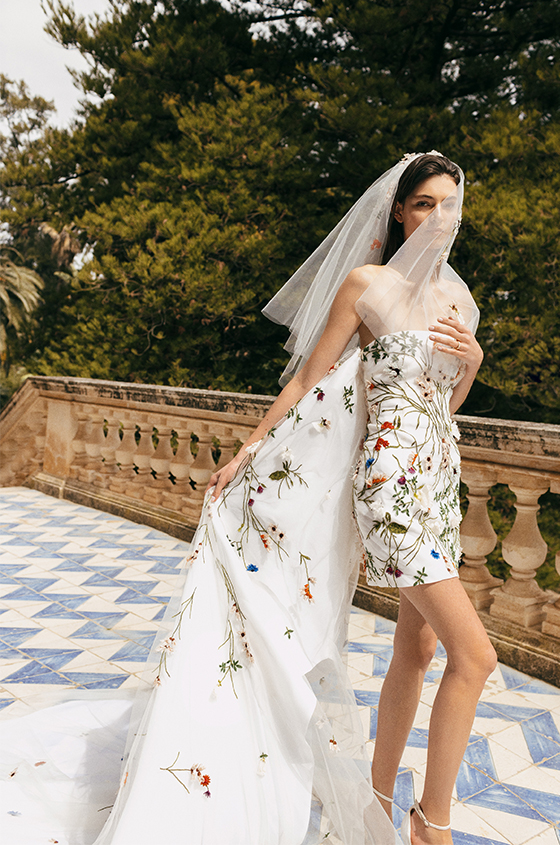 Embellished Gloves
Bridal gloves have been around for a long time and by the looks of it are here to stay! That said, they are not the same as the ones we know and love, they have become even better. In 2023, bridal gloves will be more luxurious and dramatic, catering to the wishes of brides. Embellished gloves seem to be the next trending accessory in 2023 and brides absolutely love them. If you love gloves, are looking for bridal accessories and want to sparkle then this trend might be perfect!
Shawls
Shawls may be the perfect bridal trend for 2022/2023 as it can be used all year round. Whether you are getting married in the summer or the heart of winter, shawls will be there for you! Bridal shawls look amazing, provide warmth and covering during the ceremony or late at night after dancing the night away. They can be loose or fitted, ornate, romantic, and most importantly they will never be boring! Some dresses come with their own shawl, but you can also pick the complete opposite for some diversity. Whether this trend is the right choice for you or not you will look magnificent walking down the aisle!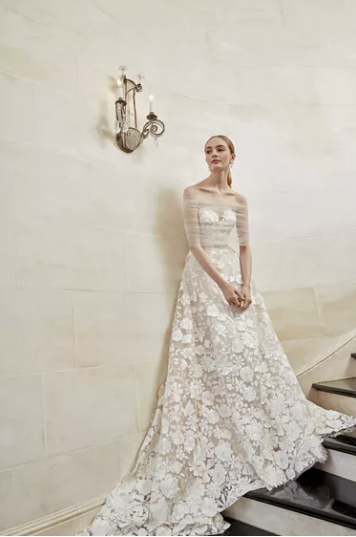 Did these bridal trends for 2022/2023 inspire you? Start your journey down the aisle the way you want to and remember that you will look fantastic no matter what! If you would like to gain more inspiration, feel free to check out our blog or reach out to us!