In Greek mythology, the god 'Psyche' is represented by a butterfly and she and Eros, the Greek god of love, forever share a deep love between each other. If these signs are symbols of your love, which you would like to include as a part of your wedding, read our ideas on How To Spread Love With Butterflies At Your Wedding on today's blog.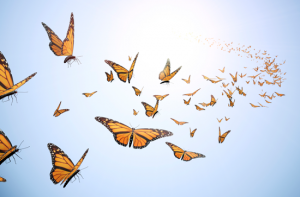 The Meaning & History
Butterflies were regarded a part of a wedding in the 90's, when they were released right after the marriage ceremony. Being a symbol of growth and new beginnings, brides sewed on white butterfly appliques to their dresses or veils.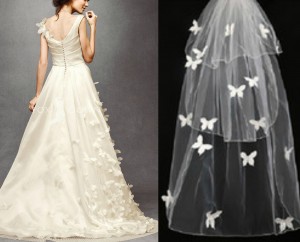 The Butterflies
Not all butterflies can be released at weddings. Mostly Monarch butterflies are used, as they are larger compared to others and also provide a beautiful blast of colour, making them visible for everyone to see during the release. Most Monarch butterflies thrive in colder places, making it easier to be found in regions in the globe that have the winter season. The Monarch butterfly is known to get closer to people, meaning it may fly from the bride's veil to a guest's head, before it soars to the sky.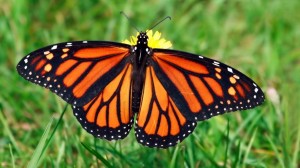 The Release
A butterfly release is one of the most popular substitutes for rice and confetti. You can decide on releasing them while you are saying your vows, to have them carried to the heavens, or during your first kiss as new Mr & Mrs, signifying the start of a new phase in your life.
You could also hand each guest an envelope with a butterfly and let them whisper their well-wishes to the stunning insects before releasing them or have a mass release out of a big cage, at the end of the ceremony, which always looks beautiful.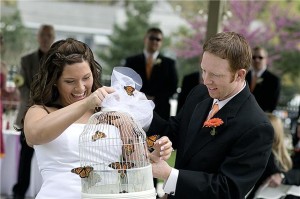 Wedding Decorations
If you prefer not to have living butterflies as part of your wedding ceremony, why not add them to your decorations. Their pretty colours and graceful nature make them special motifs for the big day. Whether you are using them as a unifying theme throughout your wedding or just for one or two surprise details, butterflies will bring you joy and happiness on the big day.
You can stamp or emboss butterflies on your wedding stationery, such as on your place and escort cards, a lovely welcome for your guests to their seats at the reception.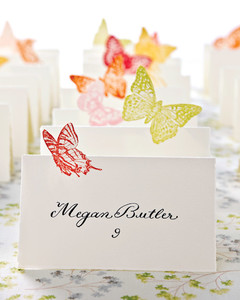 Another option is to incorporate butterflies into your flower girl's attire. Little girls love butterflies, so why not give her a piece of jewellery with a butterfly motif or have butterflies stitched to her dress. Having her wear butterfly wings while walking down the aisle in front of you is sure to make you and all your guests smile, while your flower girl is sure to think she is your angel.
The Big Extra
Butterflies can be used as a theme for any season and at any venue, no matter if it's indoors or outdoors, so get the planning started!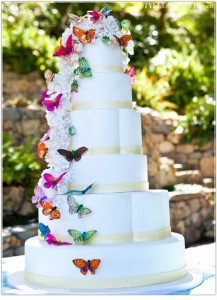 May the wings of the butterfly kiss the sun
And find your shoulder to light on,
To bring you luck, happiness and riches
Today, tomorrow and beyond.
~Irish Blessing~
Need help planning your wedding?
Contact us today to make your dream come true!
info@dreamirishwedding.com