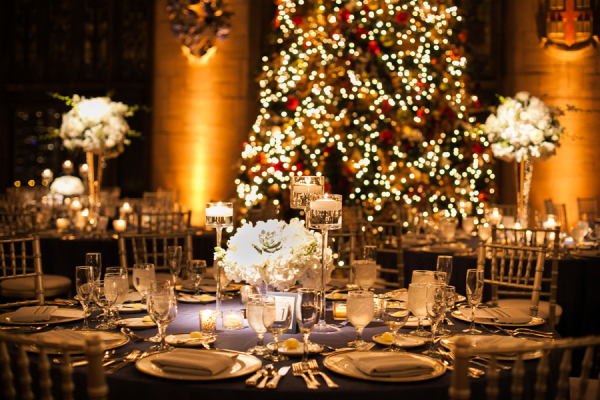 Christmas and Weddings have a common theme, assemble family and friends for  unforgettable moments.
Both of those events have their own individual charm but share the same things such as candles, beautiful table decoration, wonderful food, happiness and a magical ambiance.
Colours :
While many will opt for the traditional colours of red, green and gold, other colour combinations such as silver, turquoise and white, pure gold, purple combo for the regal touch or navy & silver are all wonderful Christmas theme colours
Decoration :
Incorporate snowflakes, glitter, Christmas trees, fake snow, holly and tree branches to give the Christmas cheer. Keep the lighting romantic and elegant with lots of candlelight to ensure guests feel intimate, relaxed and in the Christmas spirit.
For the smokers outdoor quarters, put a basket with blankets to keep them warm!
Christmas Wedding Food & Beverage Ideas :
For that extra special Christmas ambiance have a hot cocoa bar with marshmallows and candies.
You can also serve some petits fours as starter what is this mulled wine for that wonderful Christmas welcome as guests arrive at your pre dinner reception.
Mini Christmas puddings & mince pies as part of your dessert station
Christmas Carols :
Have some carols song during your ceremony or perhaps during the pre-dinner cocktail reception have a choir sing carols to really get guests in the Christmas mood!
Table names :
Name your tables in the christmas theme such as Santas reindeers, the 12 days of Christmas, Christmas carols or Christmas films.
Flowers :
Twigs, willows and winter bernies will add seasonal touches to your floral decorations giving a WOW voom particularly when contrasted with white blooms. Add some finishing touches to your Christmas wedding with holly & berry wreaths on the venue doors and chapel gates.
Bridal Attire :
Wear a cardigan for the more casual vibe or wear fur, fake or real as a great elegant addition and often this is the Bride's 'borrowed" accessory.
Add beautiful red shoes or a red cape to your ensemble to give that Christmas WOW.
Stationery :
Keep your chosen Christmas colour palette and add a touch of sparkle with a snowflake or fun with Santa Claus or understated elegance with just a holly mono gram.
Favours :
Wrap them in Christmas wrapping paper with bows co-ordinated to your colour palette
Or gingerbread favors with the name of the couple and the date of the wedding on them.
Merry Christmas !