Having a destination wedding miles away from home usually means you are in for a more intimate ceremony and can enjoy a two-for-one wedding and honeymoon. However planning such an event is no easy feat. You might be asking yourself: Planning A Dreamy Destination Wedding In Ireland: What Do You Need To Know?
We've got all of the bases covered, from choosing the perfect venue to coordinating every last detail on the big day.
Destination Wedding Etiquette.
When should I have a destination wedding?
This depends on your schedules and availability, but seasonal changes make a major impact. If you want to take advantage of the local environment with outdoor festivities, check the average rainfall & temperature by month.
Irish weather is a factor that's out of your control when planning a wedding. You can have every single aspect of your day planned to a tee, yet nothing can hold off that rain every bride fears!
Couples planning an outdoor wedding ceremony typically choose a wedding in May – September as the temperatures will be higher there's the best chance of a dry day. However, you must have an indoor back up plan for any outdoor activity including the wedding ceremony & cocktail reception just in case the weather isn't on your side.
If you've always dreamt of a Winter wonderland wedding, late November and December are the perfect months. With Christmas being the pivotal time of the year for family members to return home to be with loved ones it may be the most appropriate time for you to hold your wedding. Especially if you have family and friends living far from home and wish for them to be a part of your wedding.
When do I notify guests of my destination wedding?
Save-the-dates should be mailed eight to twelve months before the wedding. The official destination wedding invites should go out no later than three to four months before.
It is important to note that an extra-long lead time will allow guests attending a destination wedding to make travel and holiday arrangements but for a domestic destination 6- 8 week lead in time is perfect.
Who pays for accommodations?
Usually guests are expected to cover their personal lodging and transportation expenses but it's important that you make this as gracefully clear as possible. Tactfully lay out expectations by providing recommendations for accommodation on your wedding website. If there are appropriate accommodation booking websites they could be shared also.
If you've booked a hotel room block, emphasize that each guest needs to reserve their own room within it. Your wedding website and save-the-dates will be your best tools in getting the word out.
Do I need to help guests book travel?
You don't need to book anyone's travel but it is a nice gesture to make the process easier. Enlisting a travel agent can help lighten the load by taking over group reservations, inputting everyone's travel info and scoring the best deals. You may also want to consider providing your guests with a wedding itinerary which will help keep everyone on schedule and fully informed on the day to day wedding plans.
Attire
Things have changed a lot in Ireland since our parents tied the knot. The typical Irish wedding has gone from traditional, formal, predominantly church affairs to more casual celebrations, true to the unique style and taste of the couple getting hitched.
Irish wedding ceremonies are also more laid-back than they have been in the past, with more relaxed, civil or humanist ceremony set ups and receptions. You can now get married abroad and at home in more casual, outdoor settings, from cliff tops and walled gardens to rustic barns, old theatres and historic houses.
When the couple are travel with their wedding clothes they should consider the following:
Carry your clothes with you as you travel to ensure they do not get misplaced.
Store your clothes in a durable garment bag to protect them from getting damaged.
Combine belongings with loved ones if you do not have enough storage room.
Board early to avoid unnecessary stress.
Store your clothing in the overhead compartment to avoid damage.
Enquire if you can press & steam your clothing at your venue.
Make an appointment in advance at local dry cleaners.
If you're a guest at an Irish wedding, it can be tricky to decide what to wear. Here are some ground rules worth referencing before shopping for the big day.
Do not stray from the dress code.
Do not wear white (unless stated otherwise).
Think understated elegance.
Try not to dress too casual.
Wear comfy clothes.
Avoid buying something you will only wear once.
Ensure they bring warm jacket /coat to wear on wedding day if required.
Transport
You might like to consider organising airport transfers for your guests so they know once they land in Ireland possibly tired /jetlagged they will be met & driven straight to the destination without having to worry about driving on the wrong side etc. Transport may also be required to take guests to /from the ceremony and pre /post wedding events.
Welcome Gifts/Bags
Looking for a way to show your guests how much you appreciate them coming to your wedding? Welcome gifts/bags are a thoughtful idea.
Choose a location
The location you choose for your wedding will determine the mood and style of the event. When getting married in Ireland you have many choices, for example, grand country houses, ancient castles, and modern city venues. A good place to start is to decide on the venue style /type and then doing a shortlist of any potential venues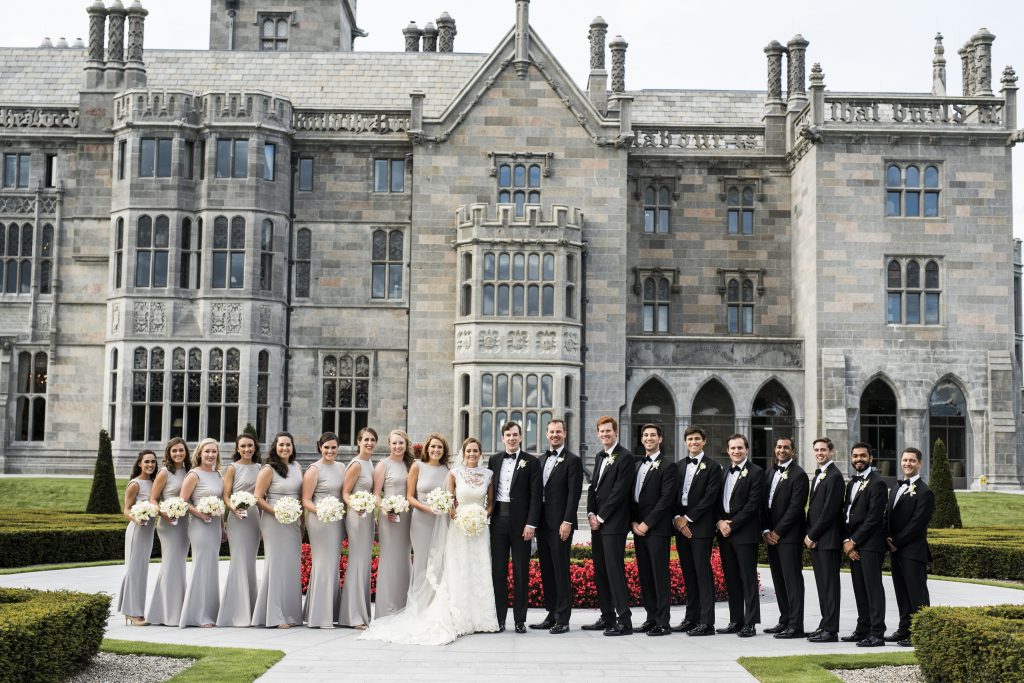 Consider guests lodging
Whilst etiquette does not require you to cover the cost of accommodations, it's a thoughtful gesture to provide enough recommendations to satisfy a range of budgets. "It's best to offer several options at different price points. "But keep all hotel suggestions within a ten-minute radius, 15 tops." Setting up room blocks can help you negotiate a lower price and consolidate everyone in one vicinity. Don't set your date until you're sure there's room availability for everyone.
Hire a pro
Planning A Dreamy Destination Wedding In Ireland: What Do You Need To Know?
Find a planner that specialises in destination weddings (with us you are in the right place). This way, instead of spending hours on phone calls trying to overcome a language barrier, or making executive decisions from miles away, you can have an expert taking care of it all for you from arrival to departure of the entire group.
Plan additional events
Extend all the fun of the big day by expanding the itinerary. Guests will enjoy some extra activities to make their trip even more worthwhile. You don't have to go for a full wedding weekend but a welcome party to greet everyone is a popular choice (either blending with, or following the rehearsal dinner).
Some couples include interactive activities that showcase local group tours or tastings. You can also choose to close the wedding weekend with flair and say your farewells at a post-wedding brunch or luncheon or a white party!
Secure wedding insurance
When it comes to getting married in a foreign locale, it's always best to expect the unexpected. Investing in wedding insurance will help protect your financial investment and offer some emotional assurance, some venues even require it. It's best to sign up well in advance, although some companies can accommodate a tight turn around and get crystal-clear on what policies there are and the type of coverage you're signing up for.
Check local marriage requirements
Making a marriage legal isn't quite as easy as hiring an officiant. Countries have different requirements necessitating a whole myriad of paperwork from birth and medical certificates, letters of intent, and even proof of residency. Educate yourself far in advance to ensure you have enough time to get everything together. In some cases, it may be easier to do the legalities in your home country and have a beautiful Celtic wedding ceremony in Ireland!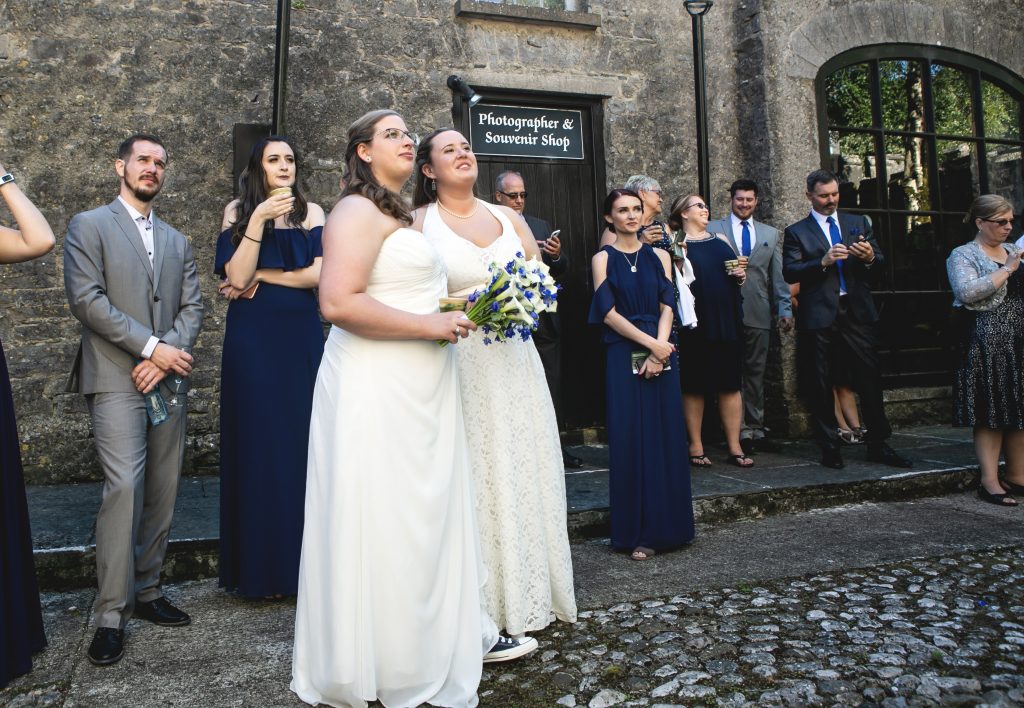 Five steps to getting married in Ireland:
You must give a minimum of 3 months notice prior to wedding day.
Marriage notification appointment.
Choose a venue & officiant who can do the legalities for your ceremony.
Register your marriage.
Get a marriage certificate.
Secure passports and documents
A valid passport is an essential for international travel and you will at the very least need a driver's license for domestic destinations. Do not forget to double-check all expiration dates as soon as you choose your wedding date and location
Additional documentation may include:
Boarding passes.
A list of countries you have previously visited.
Health records, or vaccinations, may be required.
Planning A Dreamy Destination Wedding In Ireland: What Do You Need To Know? We hope this blog will help you!
If you are thinking of a destination wedding in Ireland please don't hesitate to send us an email. We would be happy to help you plan and design your dream wedding.
To see our Pinterest board with more ideas, click here.
Other blogs you maybe interest in: