Spring is finally here which means wedding season is upon us! With a new season comes new trends, engaged couples and endless possibilities. We are delighted to share the newest floral trends of 2022 that we experienced with you in this week's blog. Keep reading to find the perfect floral trends to watch for your spring wedding!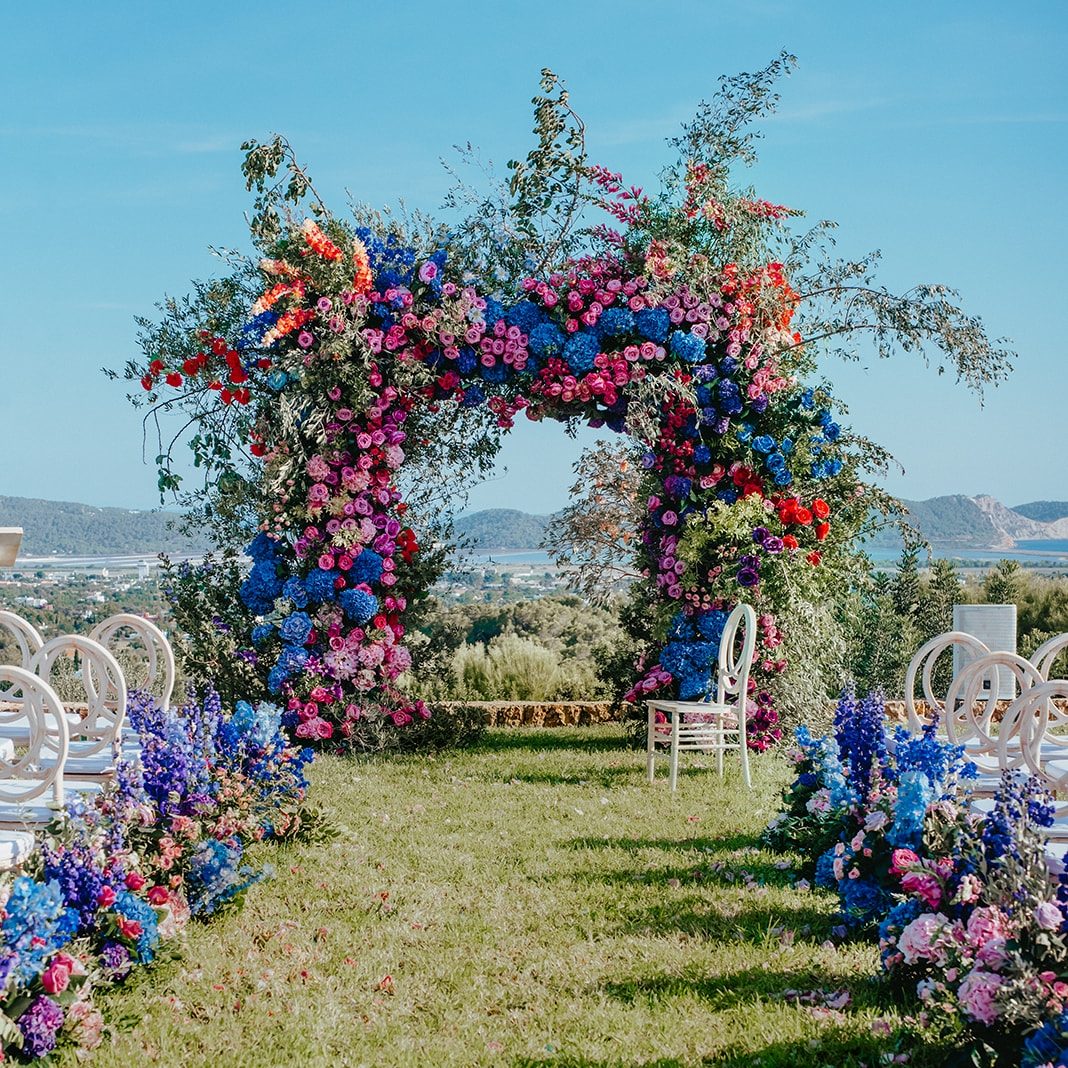 1. Big, Bright & Colourful!
Out with the old and in with the new! Although we love a good pastel themed wedding, couples become more expressive every day. Big, bold, bright, and colourful seems to be desired for wedding florals in 2022. Don't be afraid to show your bubbly personality on your special day with bold and bright floral arrangements! Bold and bright colours will certainly impress your family and friends especially with a grand wedding arch like this.
We absolutely adore this floral trend as it makes your wedding feel more authentic by showing your personality. Bold and bright colours are perfect for a spring wedding and will make your wedding pop!
2. Dried Florals
This spring it's all about texture which means incorporating dried florals in your bouquet, centerpieces, and décor. For those of you who doubt their elegance compared to fresh flowers we got you covered. The stunning florals in the bouquet may be dried but still give you that elegant bridal feeling. Paired with the right flowers they are perfect for your spring wedding. This trend is also the perfect way to preserve your wedding florals after the wedding!
3. Big Floral Displays
Why keep it small when you can go all out with a big floral wall/display! Floral arrangements are personal and differ per wedding however we noticed they have one thing in common. In 2022 floral arrangements are becoming bigger and a real vocal point at weddings. Floral walls, installations or displays are becoming very popular among engaged couples and are the perfect way to incorporate both your personalities! If you are looking for a way to wow your guest this may be the trend for you. This trend can be used all year around but with the right seasonal flowers it can be perfect for your spring wedding!
4. Suspended Flowers
Suspended flowers, aren't they just marvellous! If you are looking for a way to take your wedding to the next level, this is the trend for you. Suspended flowers are the perfect way to add elegance and luxury to your wedding. Depending on the colour palette for your wedding this trend can be personalized to your liking. Almost every flower can be used which makes it perfect for a spring wedding. Add pops of colour and the most gorgeous seasonal flowers to make your spring wedding fabulous with this suspended floral trend! This trend inspires brides all over the world this year to use their imagination and add their personality, will you be one of them?
5. Floral Cocktails
Who doesn't love a good wedding cocktail to celebrate the happy union! Take your wedding signature cocktails from fabulous to magnificent with this floral cocktail trend! Florals are a fabulous addition to a wedding, they smell amazing, look stunning and are delicious. That's right flowers can be a delicious touch when used in the right dish or in this case the right cocktail. We absolutely adore this trend as it provides the perfect opportunity to add your personal touch and elevates your wedding in a subtle but luxurious way.
6. Single-Stem Proteas
Not a fan of big elaborate bouquets, we got just the thing for you! This amazing trend features single-stem proteas that will complement the beauty of the radiant bride you are. These magnificent flowers will add luxury without taking the focus away from the blushing bride. The single-stem proteas can be used for anything from the centerpieces to the décor or for the bride herself off course. Proteas bloom from spring until early autumn which makes them the perfect choice for a spring wedding!
7. Cascading Bouquets
Want to make a statement with your bouquet? Cascading wedding bouquets are the perfect way to draw more attention to the bride and amaze your guests. 2022 has just started but this trend has already made a lasting impressing on us as wedding professionals. Just look at this stunning cascading bouquet, isn't it perfect for your spring wedding! You can play around with different flowers and colours to match your personality and feel authentic to who you are. This floral trend is the perfect choice for a spring wedding for blushing brides or their lovely bridesmaids!
8. Fluorescent Pastels
Do you love pastels but aren't sure it's the right palette for your wedding? Fear not ladies we have the perfect solution for you, check out these fabulous fluorescent pastels! Choosing fluorescent pastels for your colour palette will certainly bring your wedding alive with pops of colour. Instead of the subtle pastels we all know and love, these fluorescent pastels are a bit brighter and will add more colour to your wedding. Fluorescent pastels are the perfect choice when planning a spring wedding as they create a cheerful ambience with their pop of colour. Are you looking for a unique colour palette then this floral trend may be the perfect choice for your spring wedding!
9. English Garden Style
The English Garden style trend is the perfect floral trend this spring and here is why. This style bouquet represents the characteristics of a real English garden which gives it a natural look. A mix of loosely gathered seasonal flowers paired in a manner that imitate the work of Mother Nature creates a natural but luxurious look, wouldn't you agree? This specific style of bouquet represents a natural look that makes you forget it was created by hand. For the brides who prefer a more natural touch in their floral arrangements this may be the perfect trend for you!
10. Unexpected colour pairings
For all the lovely brides who are feeling bold this is the perfect trend for you! Go all out with unique colour pairing when choosing your floral arrangements. Unique pairing can create the most beautiful arrangements, just look at this stunning bouquet! While this trend may break away from the 'traditional' wedding florals that we fantasized about as a little girl it's the perfect way to express your personality through your flowers! If you are feeling bold and are looking for a way to add pops of colour to your wedding this floral trend may be exactly what you need! Make your dream spring wedding complete with this amazing floral trend.
What did you think of these amazing floral trends? Aren't they just perfect for a spring wedding?! Which one of these floral trends was your favourite? We couldn't possible just pick one so here are some of our favourite floral trends that we had the pleasure of experiencing in recent weddings!
Our personal favourites!
1) Single Stemmed Proteas
2) Floral Cocktails
3) Suspended Flowers
4) Unexpected Colour Pairings
Did our favourite floral trends match yours? If this blog inspired you for your spring wedding be sure to check out our blog to find the latest trend in proposals, bridal couture and more!
Are you engaged, about to propose or planning to renew your vows? Contact us today and together we will make your Dream Irish Wedding a reality!